Over the past few weeks and months, Stronga have put together various hook lift container guides by type – guides for heavy material transport, bulk materials, flatbeds, tankers, water bowers, ISO skele units and more. The purpose of these guides has been to:
(1) Provide useful information to help you design your new hook lift solution, but also;
(2) To demonstrate the sheer scope and unlimited potential of the HookLoada system, when coupled together with correctly specified hook lift attachments. The potential for HookLoada to add value to your business really is unlimited.
The purpose of this particular article is to bring together the most popular and most useful hook lift solutions, allowing you to imagine the potential for your business when you build-up your hook lift attachment fleet over time. With one HookLoada trailer and a ripe imagination, the future of handling and transport operations really is limitless. Invest in HookLoada; allow yourself to dream.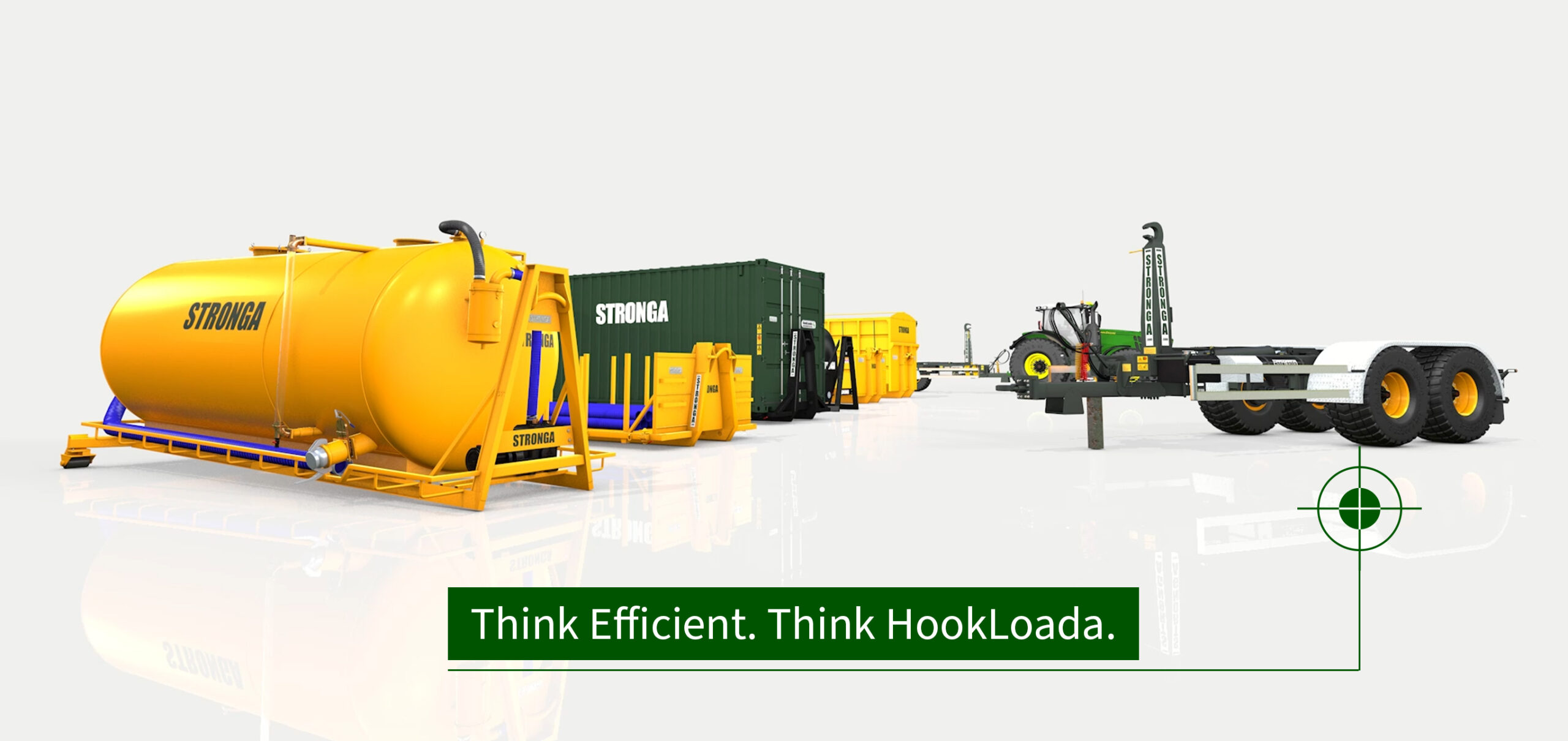 You'll Ask Yourself…
How Did I Ever Cope?
Such are the stunning efficiency and productivity gains available using the HookLoada system; you'll find it hard to imagine how you ever coped before investing in HookLoada.
More and more businesses are taking the smart decision to move towards HookLoada trailers for their logistics and handling operations – developing their own customised solutions around the hook lift trailer to stunning effect. Watch the video below to discover just a few of the possibilities available to you when you invest in Stronga hook lift equipment. Please email the Stronga team if you have questions about any of the hook lift attachments shown in the video, which include hook lift vacuum tankers, hook lift bowsers, ISO skele frames, flatbeds and more.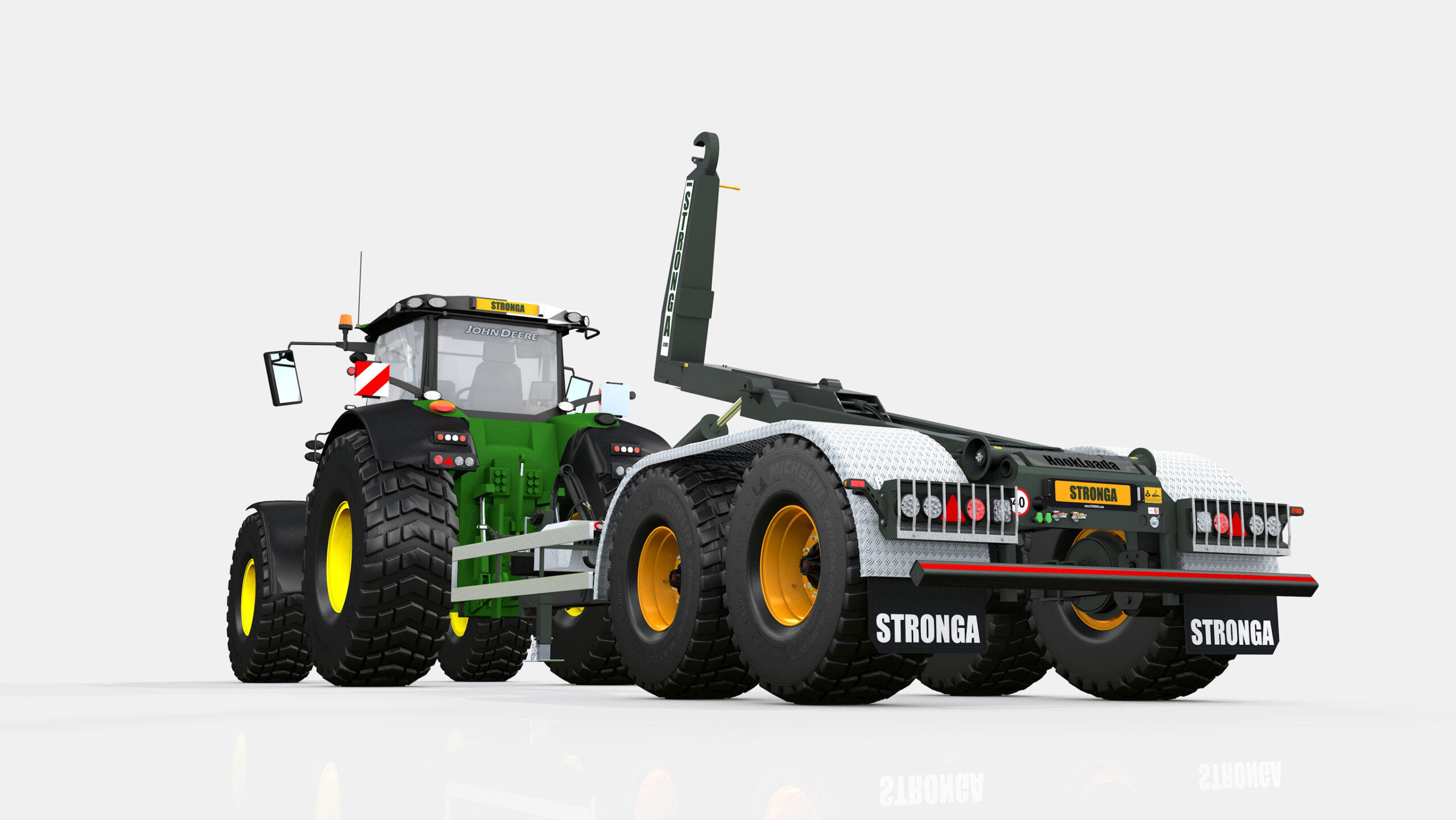 Respect the Resource
At Stronga, we are proud to see our customers carefully considering energy efficiency improvements in terms of reducing tractor hours, labour hours and fuel in a time where all of these resources have become inflationary in price, and also extremely scarce.
Our customers are focussing their strategy on reduced carbon use and more sustainable, circular operations. As far as we are concerned, one HookLoada trailer plus a fleet of specialised, purpose-built attachments provides a unique opportunity to tailor the equipment to fit your business, while also offering the benefits of reduced carbon use, tractor hours, labour hours and fuel consumption.
At Stronga, we worry about the details that make the difference to both the environment and your bottom line.
Remain Adaptable with HookLoada
Build-up Flexibility Over Time
When you invest in Stronga hook lift equipment, you aren't forced the buy the full fleet at the start; you can take your time and enjoy the creative process of building up a customised fleet of different containers over time to perfectly fit your specific business needs. What's more, you can change your fleet over time as your business requirements alter, potentially increasing capacity in certain areas as you see best.
This offers a huge advantage in today's world when it is hard to plan ahead. Remain adaptable and choose HookLoada – because change inevitably happens.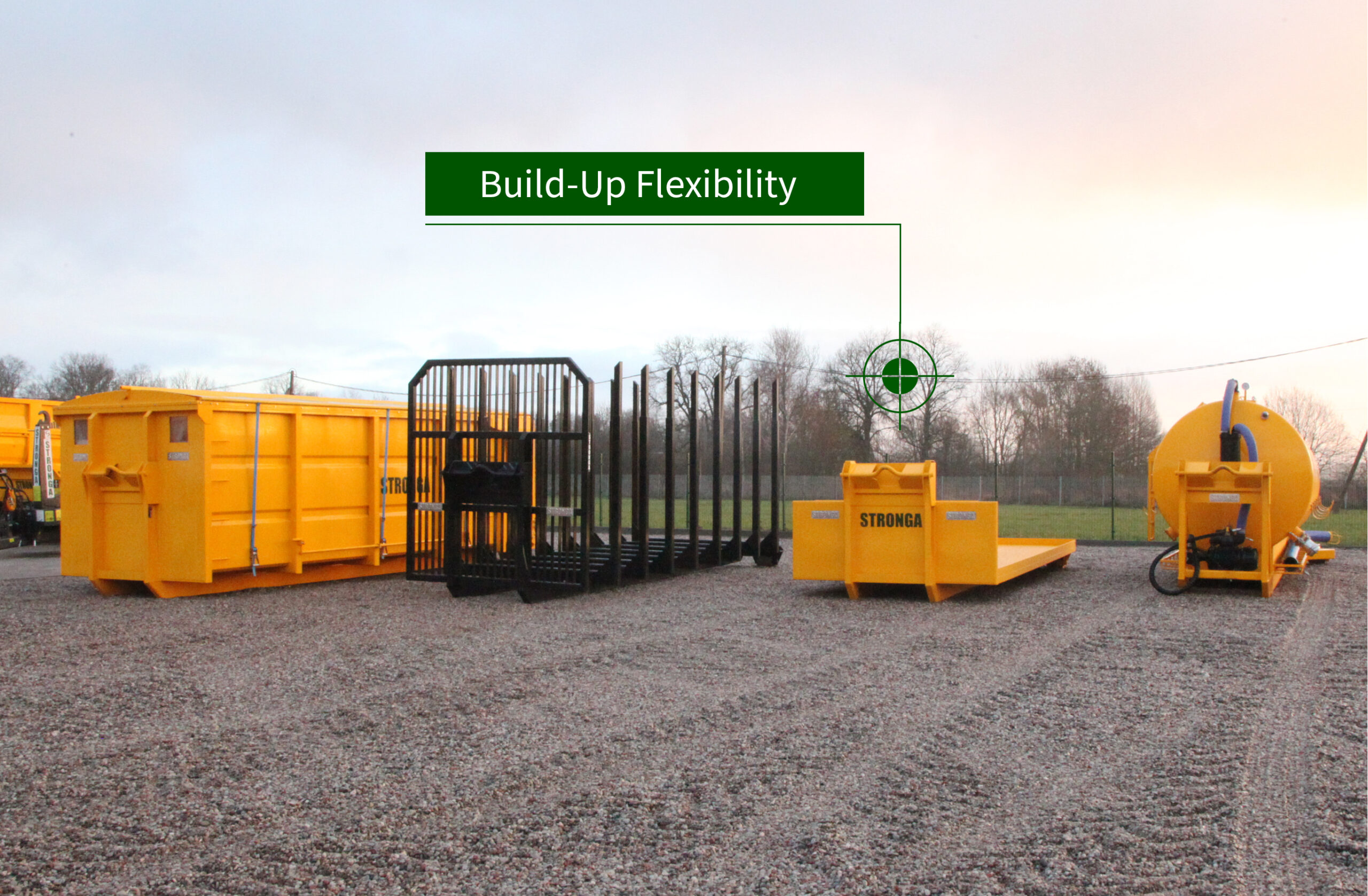 Customised to Your Needs
The following section of this article presents photos of the HookLoada trailer working with different type hook lift solutions – hook lift flatbeds, hook lift tankers, hook lift bowsers, hook lift dumper containers and more.
With HookLoada, you can customise the whole transport solution to suit your needs, and that's where the main advantage lies over single-purpose trailers.
Flatbeds & ISO Skele Frames
Vacuum Tanks & Water Bowsers
"Special" Hook Lift Applications
In addition to the above, more "traditional" hook lift attachments, clients can also think outside of the box, designing hook lift solutions to meet the demands of their unique applications. Below are just a few "special" hook lift container types.
Contact Stronga
There are many different ways to get the job done using a HookLoada trailer, together with correctly-specified hook lift solutions. Join the creative pioneers leading the progress in hook lift applications.
If you have any questions about any of the information in this article, please don't hesitate to contact our sales team using the following details. We look forward to hearing from you.
Email – sales@stronga.co.uk
Photo – 01992 519000