At Stronga, we find in our communication with customers that they each value product features differently. Often, our customers are very technical and understand the benefits of certain Stronga innovations.
The purpose of this article is to present the top 10 (+1) leading Stronga HookLoada innovations which are currently helping customers all over the world benefit from high performance, long service life and excellent reliability with safety in their own day-to-day jobs. Check out the list below.
Innovation #2 - Automatic Slack Adjusters
Sometimes the technical features are so small that they are initially hard to recognise, that is until you see the day-to-day benefits of fitting them to your new hooklift. Little details like the Automatic Slack Adjusters option make your life so much easier when it comes to necessary brake maintenance, avoiding the needed to climb under the trailer and adjust the brakes as they wear under normal use conditions.
Innovation #3 - Tri-Stop
Third on the list of our top 10 (+1) innovations is Tri-Stop - a special air brake chamber with an integrated stop brake. Customers choosing Tri-Stop avoid the requirement for the manual hand brake which can be left applied by operators – simplifying and streamlining the operation.
This exciting innovation is just another reason why customers love HookLoada.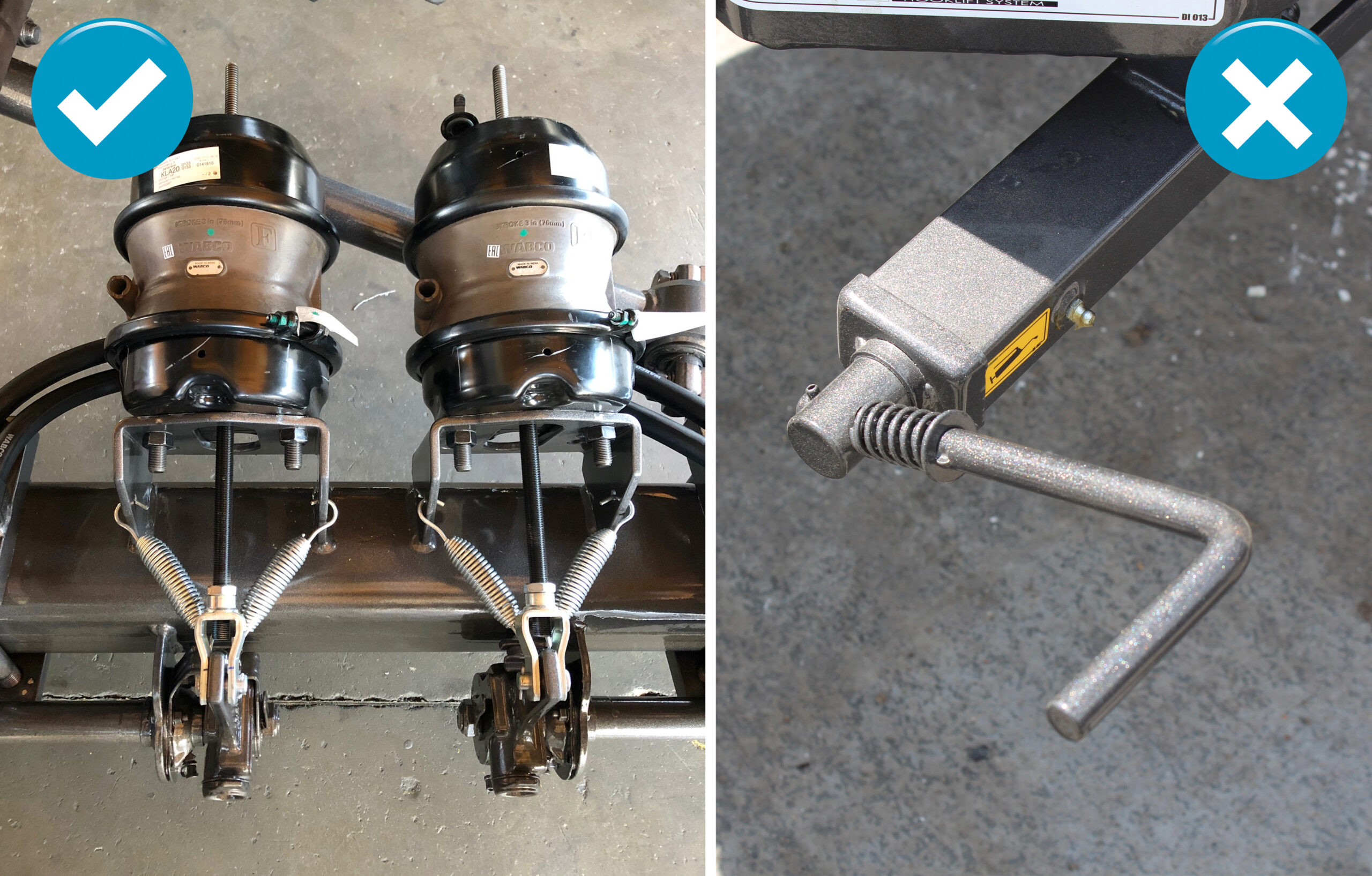 Innovation #4 - Hydraulic Drawbar
At Stronga, we find that our customers sometimes don't know which option to pick for the very best outcomes. With drawbars for example, the Stronga range allows the customer to choose between a rubber mount drawbar, sprung drawbar, or the hydraulic drawbar option. The Hydraulic Drawbar option offers:
● Significant improvements to ride comfort;
● Reduced stresses and wear on the hooklift equipment;
● Excellent ease of adjustment for different types of tractor / prime mover;
● Really useful bi-directional damping which softens the load transfer from the trailer to the tractor.
Customers often like to talk with our technical team to understand the benefits offered from each drawbar type. We would be happy to take your call or email to discuss this in more detail.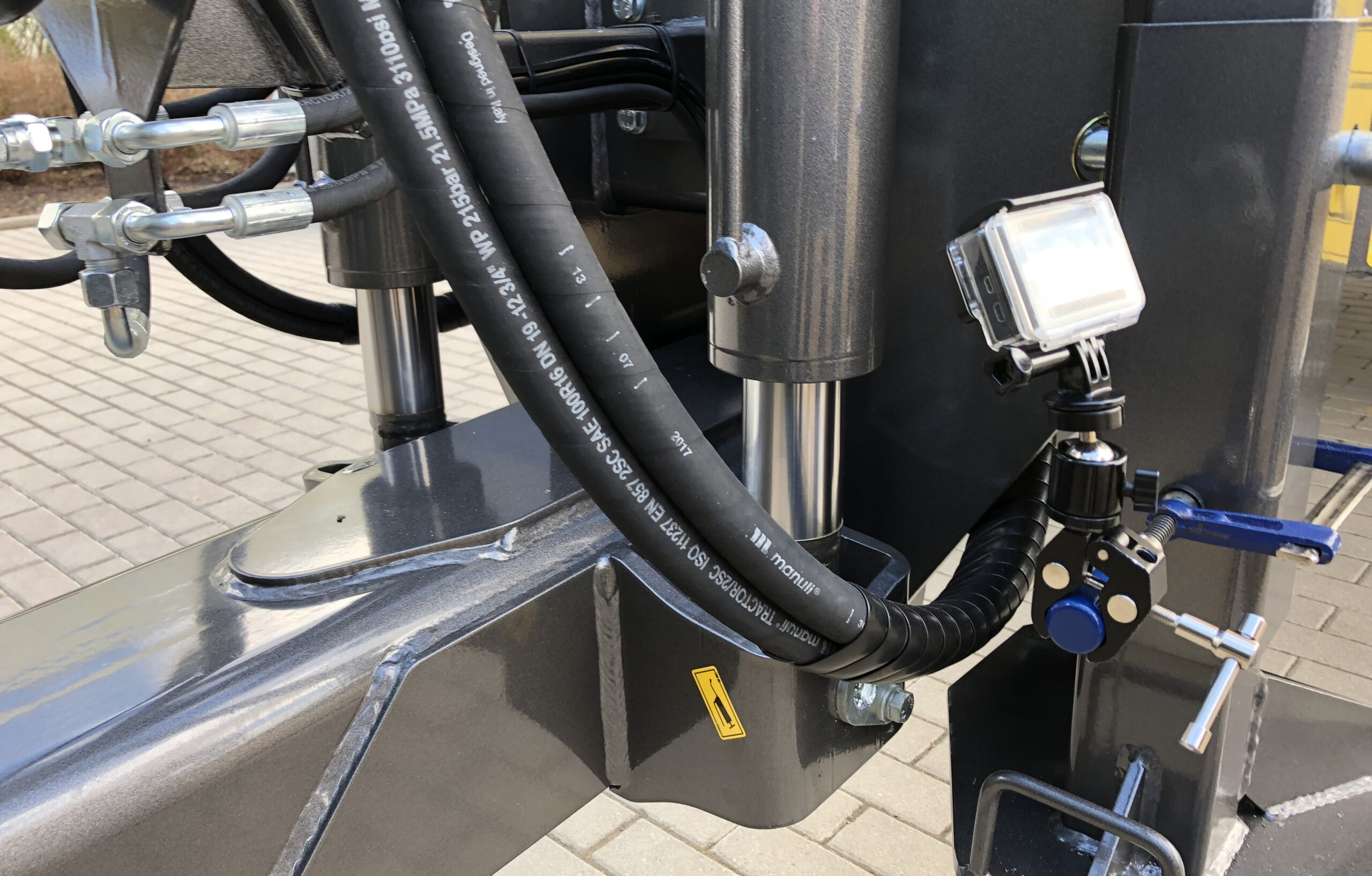 Innovation #5 - Premium-Quality Tyres
On a day to day basis, customers have a lot of choice nowadays.
On-top of everything else, when building your new HookLoada, you are required to choose the tyre type and size. Tyres have become highly technical - balancing low ground pressure for minimising compaction, together with high load carrying capacities and ever-increasing tractor and trailer operating speeds, both on and off road in demanding environments. Stronga work closely with both Michelin and Nokian to provide the best long-life performance guarantee, overall lifetime benefits of the best tyres in the world for industrial and agricultural applications.
Choosing your tyres can be baffling; Stronga are qualified to help you make those choices – streamlining the decision-making process and supporting you in the journey.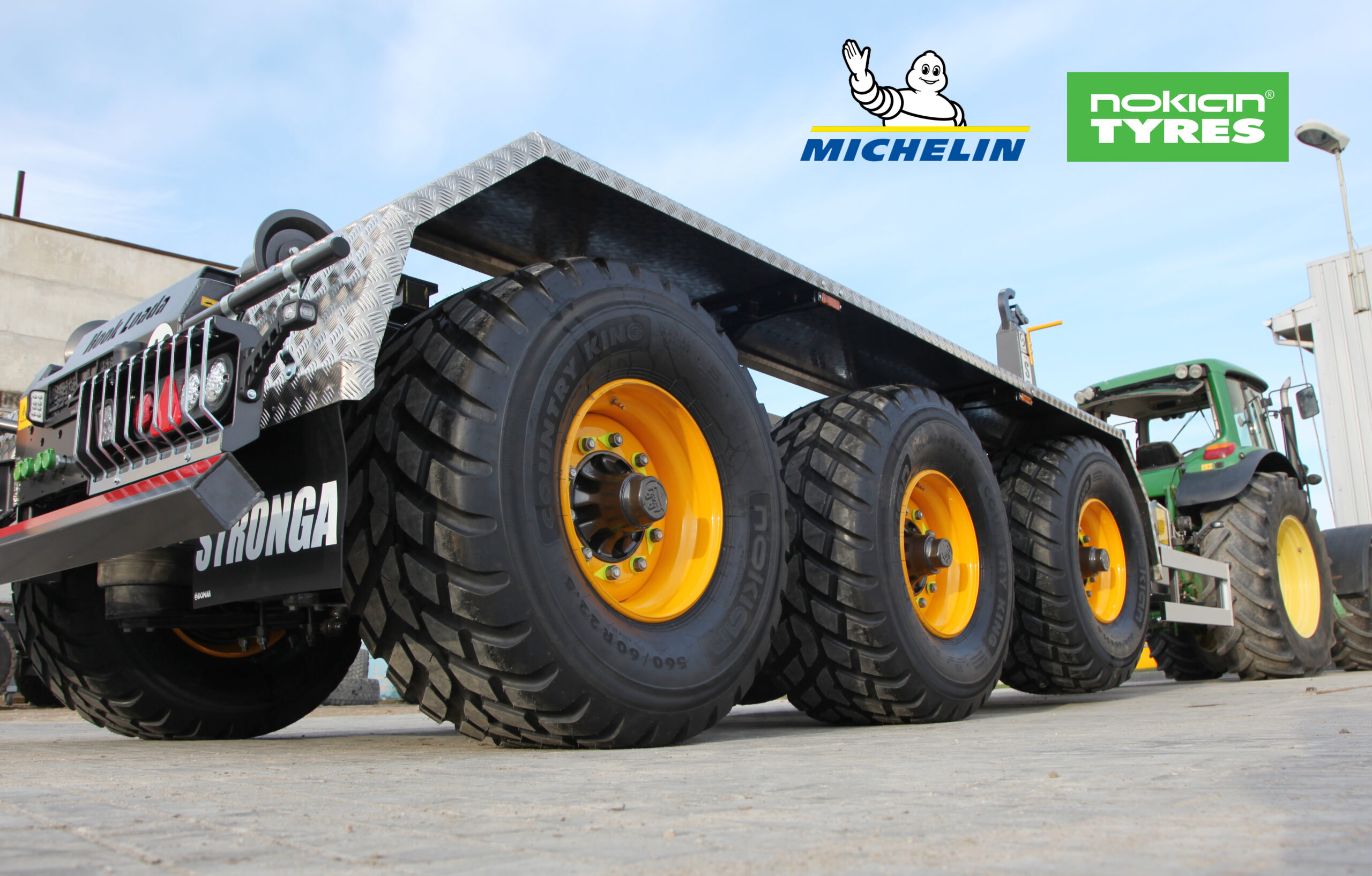 Innovation #6 - QuickLoada™
On big hooklift trailers with large powerful cylinders, slower tipping rates can be an issue, even with modern variable-flow pumps on tractors. Tipping cycle times can really add up at the end of the day; this issue is solved by the intelligent QuickLoada™ solution which is easy to operate at the press of the button. Watch the video below for more information.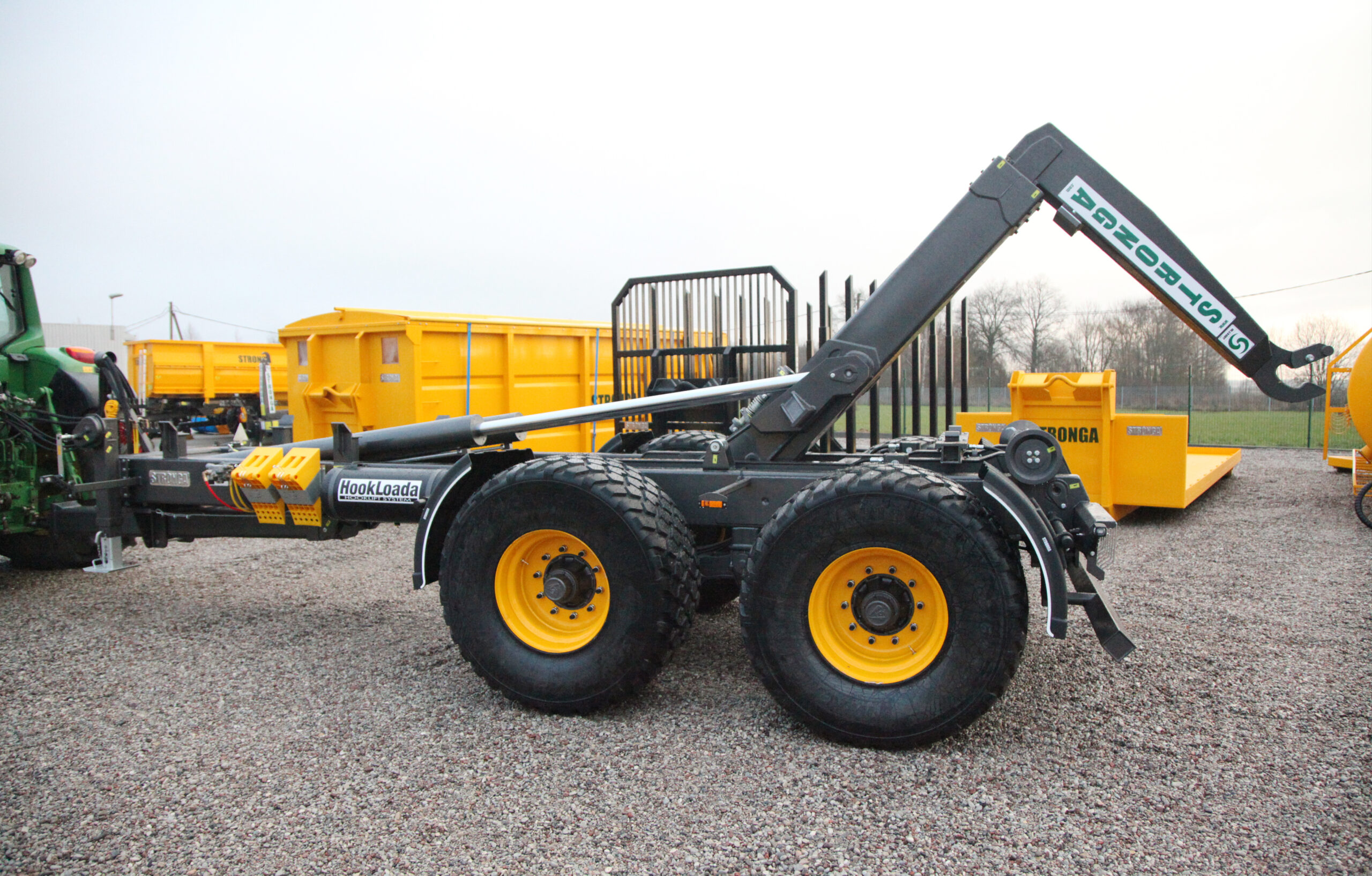 Innovation #7 - Fat Pipes to the Tractor
Another popular HookLoada innovation is the 'two fat-pipes to tractor' feature. This particular feature is so popular because many of our customers have previously had bad experiences with cardan shafts being damaged by tractor link arms, causing significant delays and costs to their trailer equipment.
This highly useful HookLoada innovation solves that particular problem while keeping the benefits of fast operation due to high oil flow rates and reducing the overall weight of the equipment. This whole flexi-coupling is better that cardan shafts – being far less likely to cause unintended damage.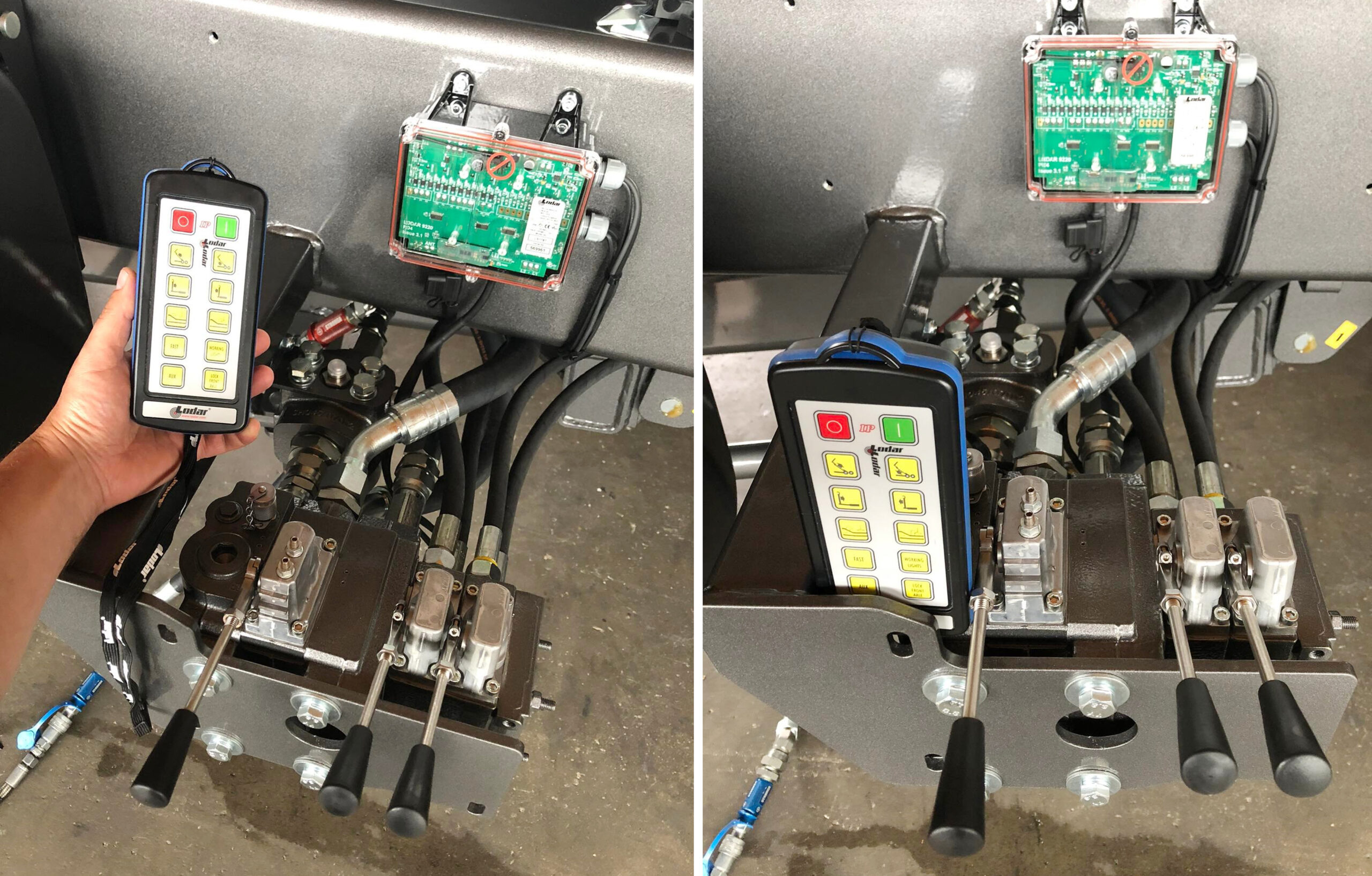 Innovation #8 - Danfoss Valve with Load Sensing
The Danfoss Valve with Load Sensing is a hugely useful Stronga innovation which has proven its worth over many years of use. Modern tractors with load sensing benefit most in terms of large savings in power, and of course importantly now… Fuel.
This is a hugely significant innovation and we encourage customers to speak to us to understand the benefits in greater depth. Each of the Stronga innovations in this article can all work together, when properly specified, but navigating your way through them requires the best specialist advice from Stronga.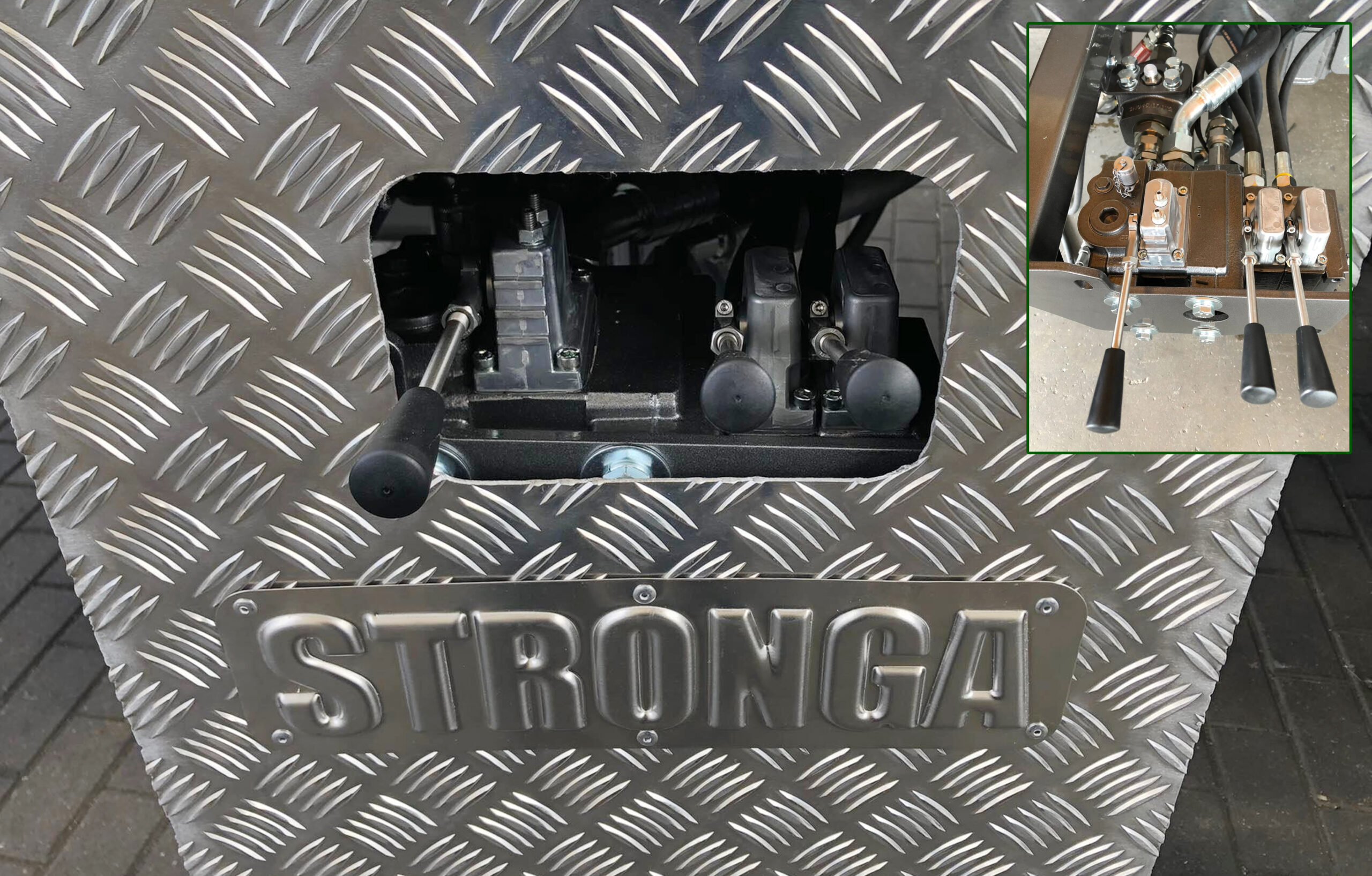 Innovation #9 – Steering Signal Lighting System
This handy visual safety feature from Stronga allows operators to easily see, from the cab, the position of the steering axle, where fitted. If either of the orange lights are illuminated, the driver can understand that either the steering axle is not in its center-locked position. These easy visual cues improve overall safety, performance and cycle time efficiency.
Innovation #10 - Frame Lock Indicator Light
At Stronga, we recognise that safety is paramount but also that tractors are getting far bigger, faster and heavier. Our responsibility at Stronga is to do everything possible to ensure and maintain safety of our hooklift trailers to the highest possible standards. Sometimes it is the simplest nudges and indicators, such as the Frame Lock Indicator Light, that optimise the safety of our hooklift equipment.
Innovation #10 (+1) - Scharmüller Swivel Towing Hitch
Stronga have always worked with the field-leaders in each particular discipline for the components of our hooklift equipment. An example of this is the Scharmüller Towing Hitch – Austrian-developed technology with a solid reputation for dynamic strength, optimum load capacity and long service life.
And There's More…
Stronga Innovation Doesn't Rest
The top 10 (+1… because Stronga give you extra) innovations listed above are just a selection of our most popular technical features and developments, leading to intelligent self-protection of people and our long-life structures. There is so much more on offer to optimise the potential of your hook lift trailer, to suit your job to be done. This choice of reliable quality is why operators love HookLoada.
Optimise the specification of your new hook lift trailer today, speak to Stronga.
Email – sales@stronga.co.uk
Telephone – 01992 519000