At the Centre of Harvesting Woody Brush Piles
At Stronga, we have been involved in a recent global trend of forestry operations moving towards the use of hook lift trailers for harvesting, handling and transporting piles of woody brush. Reason being, when operator's match Stronga's HookLoada trailer with correctly-specified bulk-capacity containers, they are able to efficiently handle woody biomass in all its forms from round wood to wood chips, sawdust, brush piles and more.
Modern professionals in the forestry sector are choosing to collaborate with Stronga to ensure the hook lift equipment is correctly-specified for their business, enabling the opportunity to move towards expanding timber markets such as renewable wood energy. Woody brush piles had previously been an under-utilised and under-valued resource; now, with HookLoada at the centre of the operation, this useful resource can now be harvested as a source of high calorific energy.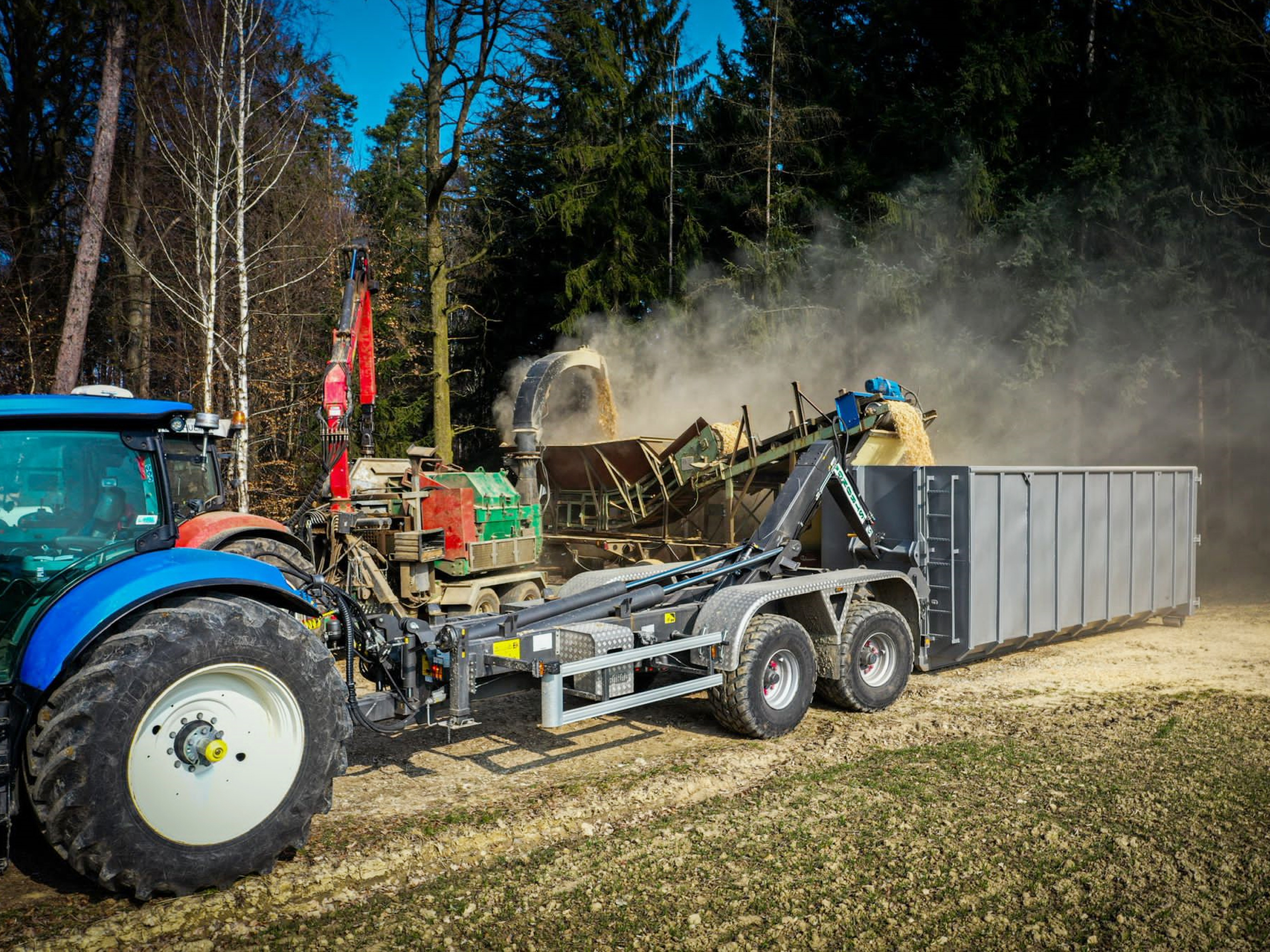 Select the Best;
Select Stronga
High status professional organisations in the business of handling timber in its various forms are choosing to select the best high capacity, high performance solutions for their forestry logistics operations. Stronga offer the complete, modern, efficient high-speed solution comprising of hook lift trailers and multiple correctly-specified bulk containers and round wood flatbeds.
The HookLoada system offers a technically intelligent method of working with multiple containers shuttling brush piles from the forest to the roadside. While trucks can potentially be used thereafter, the HookLoada trailer can also be used to the carry out the whole process, taking the wood fuel the whole way from the source to the heating / energy plant, CHP etc.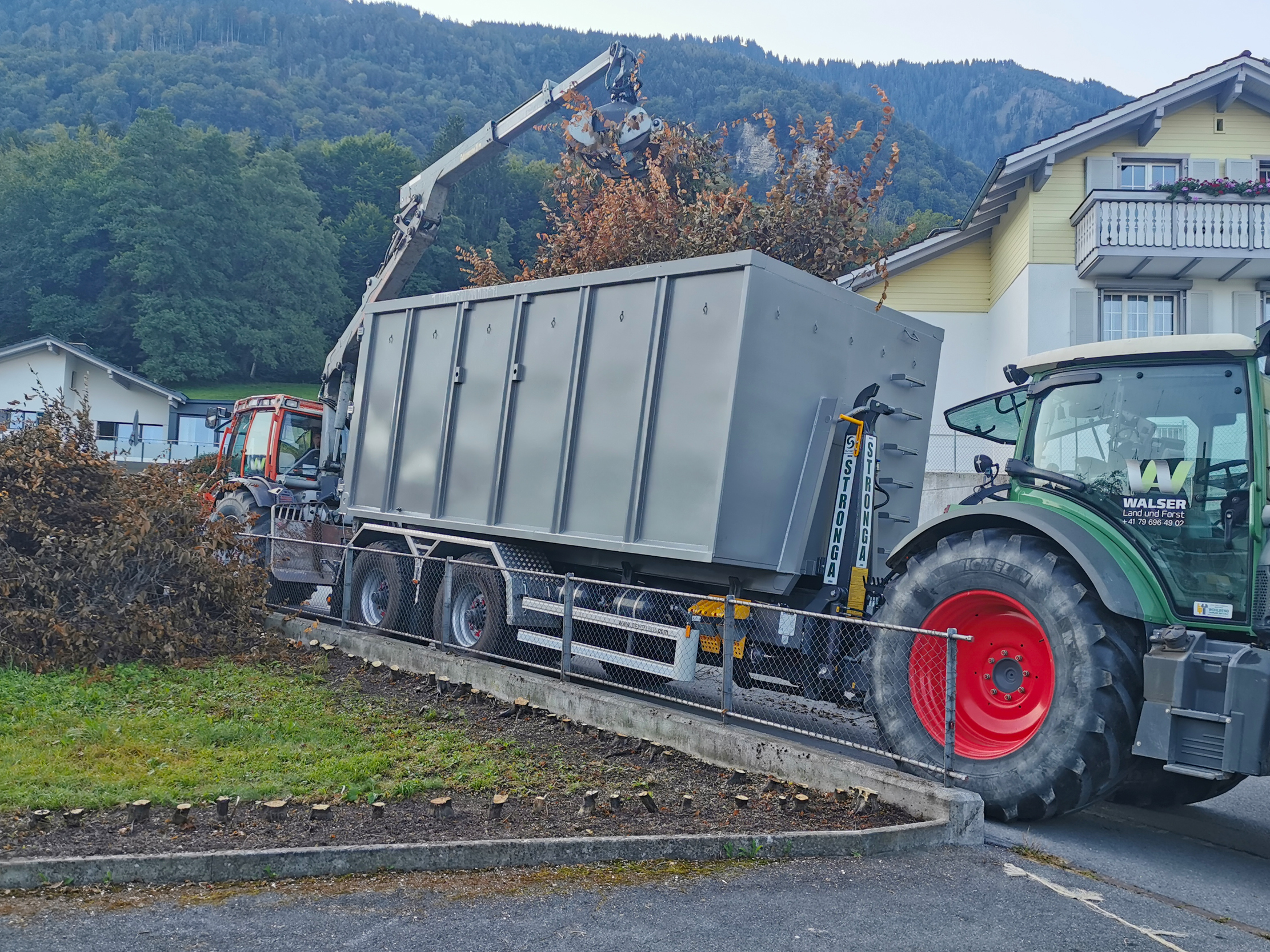 Precision-Engineered Forestry Hooklift Solutions
Transportation efficiency for woody biomass operations is critical to the success of the business yet it varies depending on the species of tree, distance to the wood storage facility, terrain type, road condition and more. Variations in these factors mean timber transport solutions must be specially designed to optimise handling efficiency.
At Stronga, our hook lift trailers are precision engineered for the individual requirements of the customer with well-developed optional equipment available, including driven axles, hydraulic drawbars, various suspension types and forestry tyres. With trailers specially designed to thrive in the client's working environment, we can be confident that our solutions offer optimum fuel economy, efficiency and productivity in harvesting woody brush piles and other forms of timber.
Tough Equipment for Tough Work
Forestry Tyres, Driven Axles & More; Available
In tough, rugged environments such as mountains, forest roads and dense woodland, you need the toughest, longest life equipment. The denser the forest becomes, the more the dynamic Stronga hook loader trailer thrives with stunning manoeuvrability, poise and performance. Our hook loader trailers guarantee easy driving over difficult terrain with forestry-type tyres, steering and driven axle options available.
The benefit of the steering axle option is that the trailer tracks the same path as the prime mover, thus ensuring that your timber forwarder offers the most efficient working operation. Moreover, investing in special forestry radial tyres reduces rolling resistance on the forest floor; they are all-but magnetic to the surface and thrive on any terrain.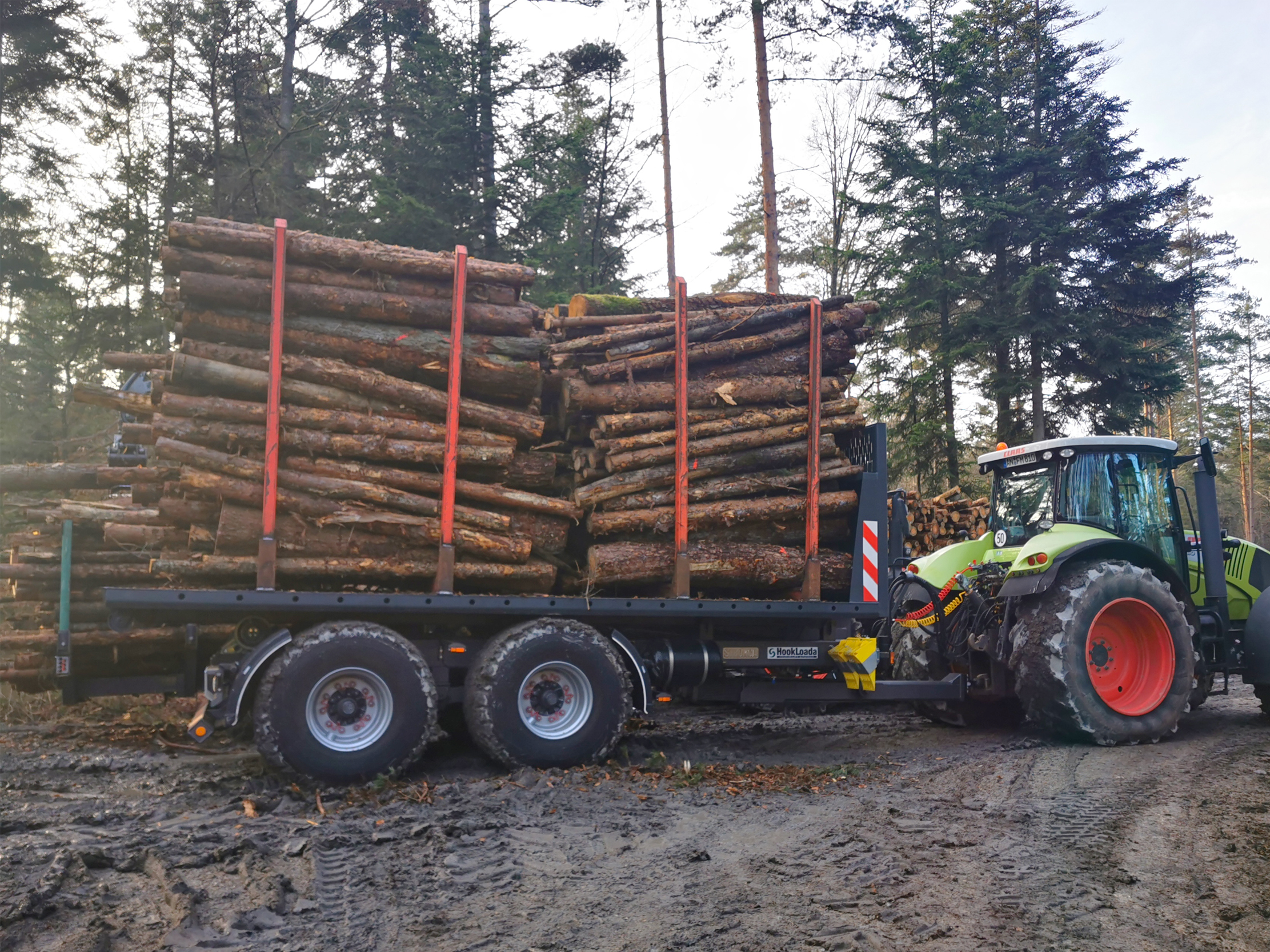 Hugely Powerful. Enormously Efficient.
Each model in Stronga range of hook loader trailers boasts a durable, compact design, offering excellent manoeuvrability in enclosed forestry environments. Whilst the HookLoada trailer is highly manoeuvrable, it also has the strength, power and capacity required for high production timber transport, especially when coupled together with high-cube, bulk capacity containers - long and high in design to maximise cubic capacity.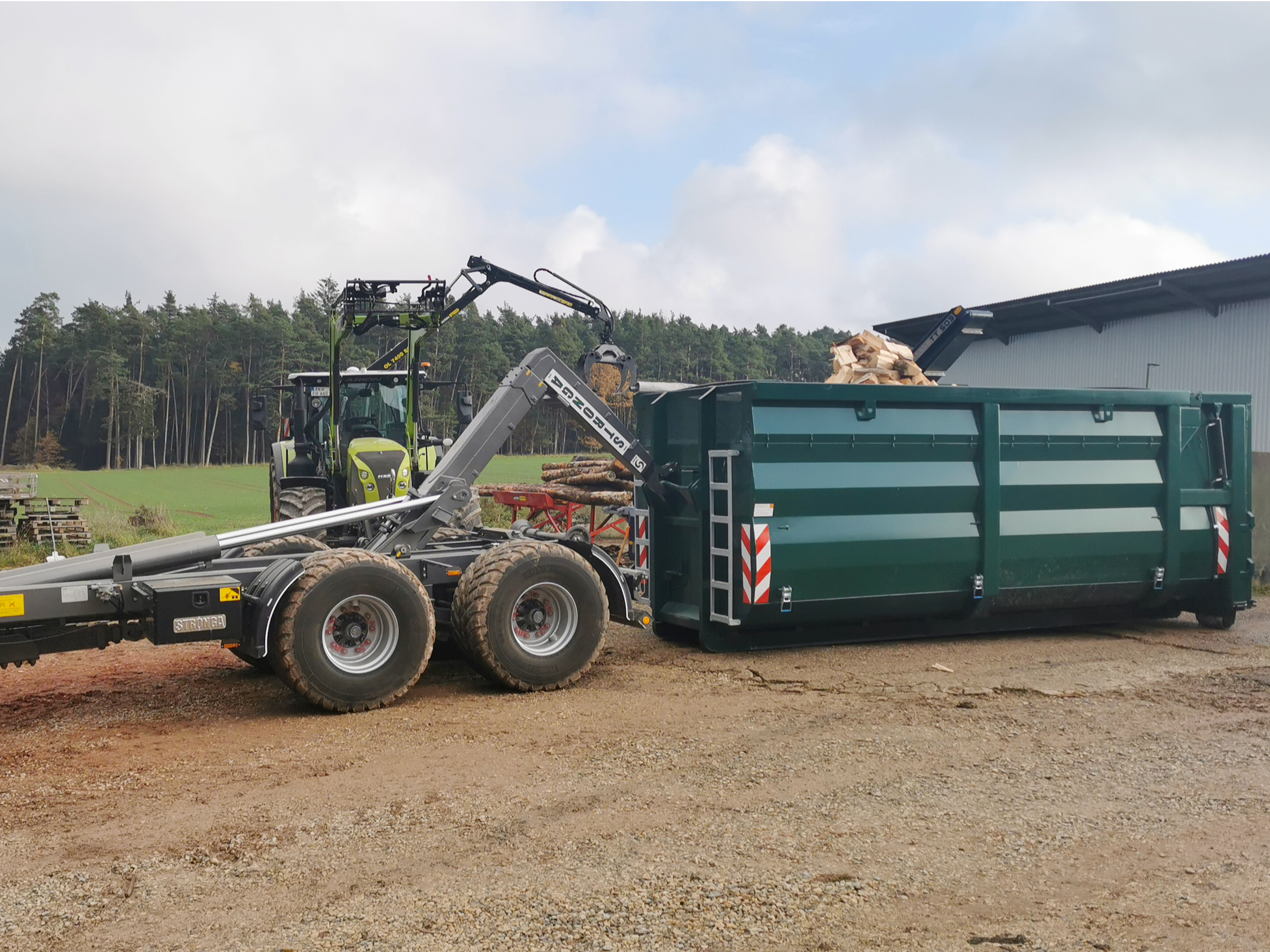 Build your Success with HookLoada
People proud of their work choose HookLoada.
One big advantage of the hook loader system is that it is truly universal. With individualised, correctly-specified containers; customers can transport, dry, store and even blow woody biomass fractions (brush piles, round wood, wood chip fuel and more), all with the same trailer. With HookLoada, high-status professionals can operate the entire process from the forest floor to the boiler. No single-purpose trailer can offer the same level of comprehensive operation.
What's more, investing in mobile equipment which can be moved seamlessly from brash pile to brash pile allows the operator to fully optimise time efficiency and productivity. Timing the harvest can also be optimised when the woody brush pile is dry and weather conditions are perfect. With HookLoada, wood energy is fully unlocked.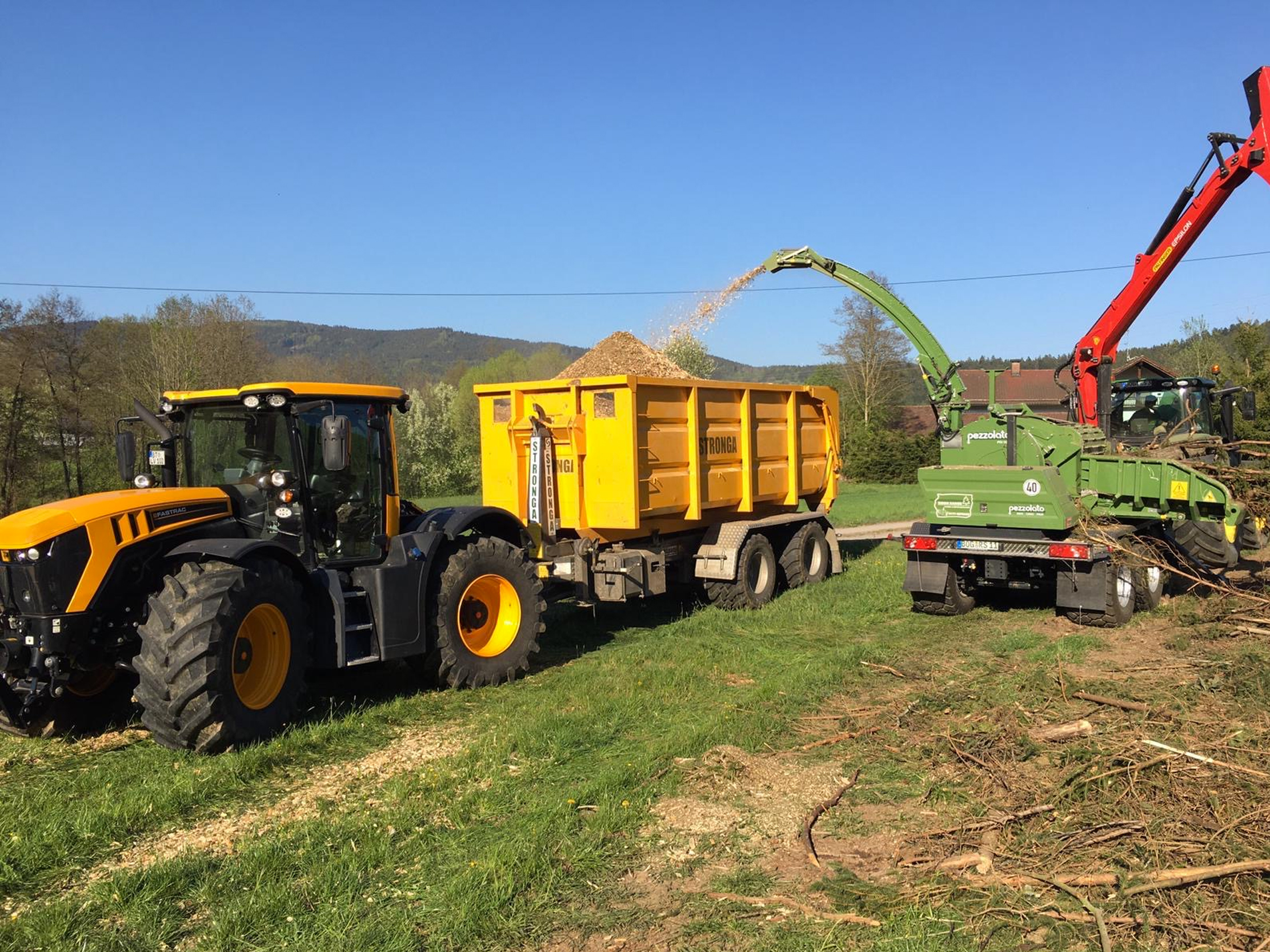 At the Centre of Woody Biomass Handling
With ancillary equipment operating around the trailer, HookLoada is fully at the centre of the process. Discover just a few of the forestry operations made possible through investing in Stronga hook-lift solutions:
• Round wood timber forwarding from forest to road side.
• Forest residue wood fuel for district heating.
• Round wood delivery to sawmills and other timber production compounds.
• Wood chip batch and continuous drying systems for wood fuel.
• Container blown wood fuel deliveries.
• Whole tree wood chipping.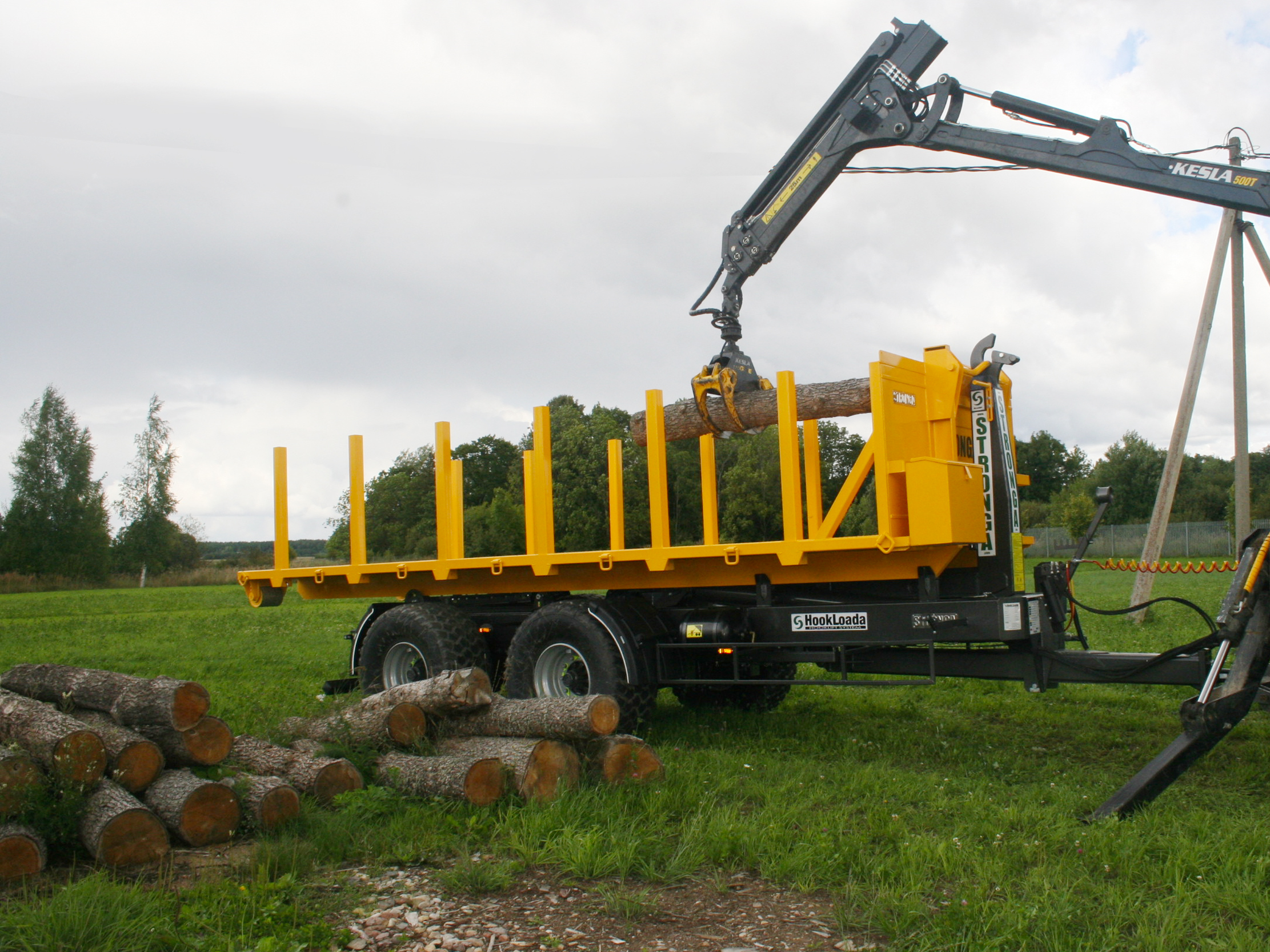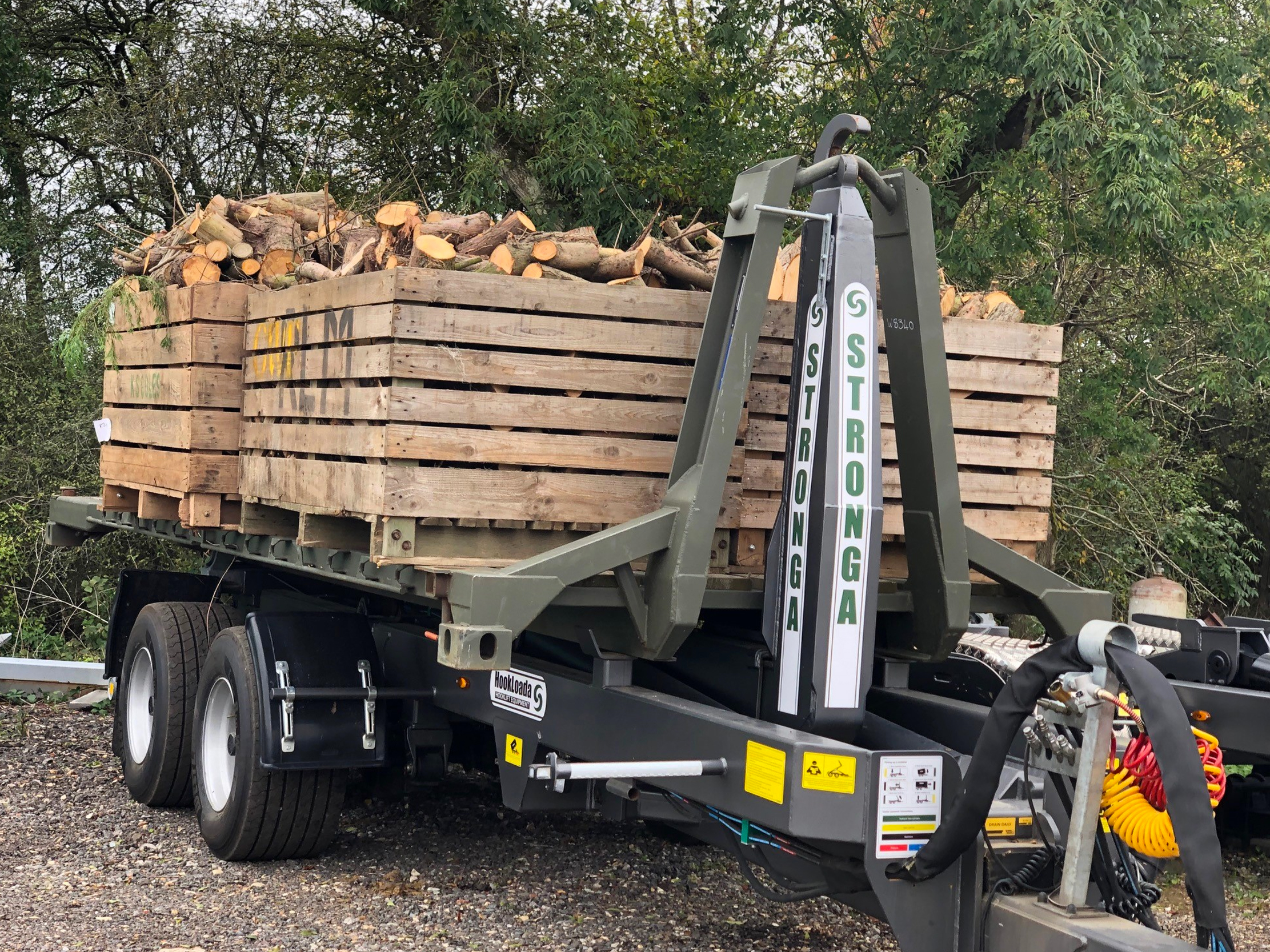 Your Trusted Transport Advisers
Stronga are your trusted transport advisers. Above are just some the applications which make the Stronga hook-lift trailer an intelligent solution and a wise long-term investment for the modern forestry contractor.
The Stronga sales team are ready to help you pick the correctly-sized and specified model to suit your operation. With an extensive range of hook-lift trailers available from 12 to 30 tonnes, Stronga are certain to have the solution for your needs. We look forward to hearing from you.
Email - sales@stronga.co.uk
Telephone - +44 (0)1992 519000