Allow SystaMatic™ To Take Control
The Stronga SystaMatic™ package option is a highly popular, extremely well-proven trailer control-system which significantly improves the operator's day-to-day productivity and overall safety whilst simultaneously reducing service and maintenance costs. After several years of reliable application, SystaMatic™ equipment continues to have hugely positive effect on the market with customers wondering how they ever coped before.
Read on to learn more about this hugely popular hook-lift trailer option.
What's in the Box?
What's included in the modern SystaMatic™ package?
1. Modern, highly-useful, robust remote-control. The SystaMatic™ remote offers effortless control over all of the trailer's functions, including; tipping and off-loading containers, working lights, air suspension operation and much more. The remote control is operable at distance from the best vantage points, offering significant improvements in safety and productivity.
2. Two-pipes to tractor. Investing in the SystaMatic™ option means your trailer doesn't require multiple flow and return hydraulic pipes which can get snagged on rear tractor linkage and damaged. The two-pipes of SystaMatic™ offer a clean, long life, easy-to-link configuration.
3. Manual valve, back-up system mounted on the trailer. The manual valve system on the trailer's chassis offers override control of the trailer's main functions should your remote-control ever unexpectedly experience issues.
SystaMatic™ is Always the Solution
Discover the Benefits
SystaMatic™'s smart radio-control delivers a whole host of significant benefits for the operator. The list below is details some of the key benefits explained to us by real-users.
- The remote-control is modern, durable, visual and extremely easy to use, allowing operators to benefit from years of effortless control over their Stronga trailer.
- Stay away from danger zones. The remote-control system allows the operator to operate various functions of the trailer from ideal positions, including tipping, unloading containers, operating Air and Hydraulic Suspensions and more. The outcome is a significant improvement in safety and productivity. SystaMatic™ enables operators' full visual control of the process, keeping your people safe at all times.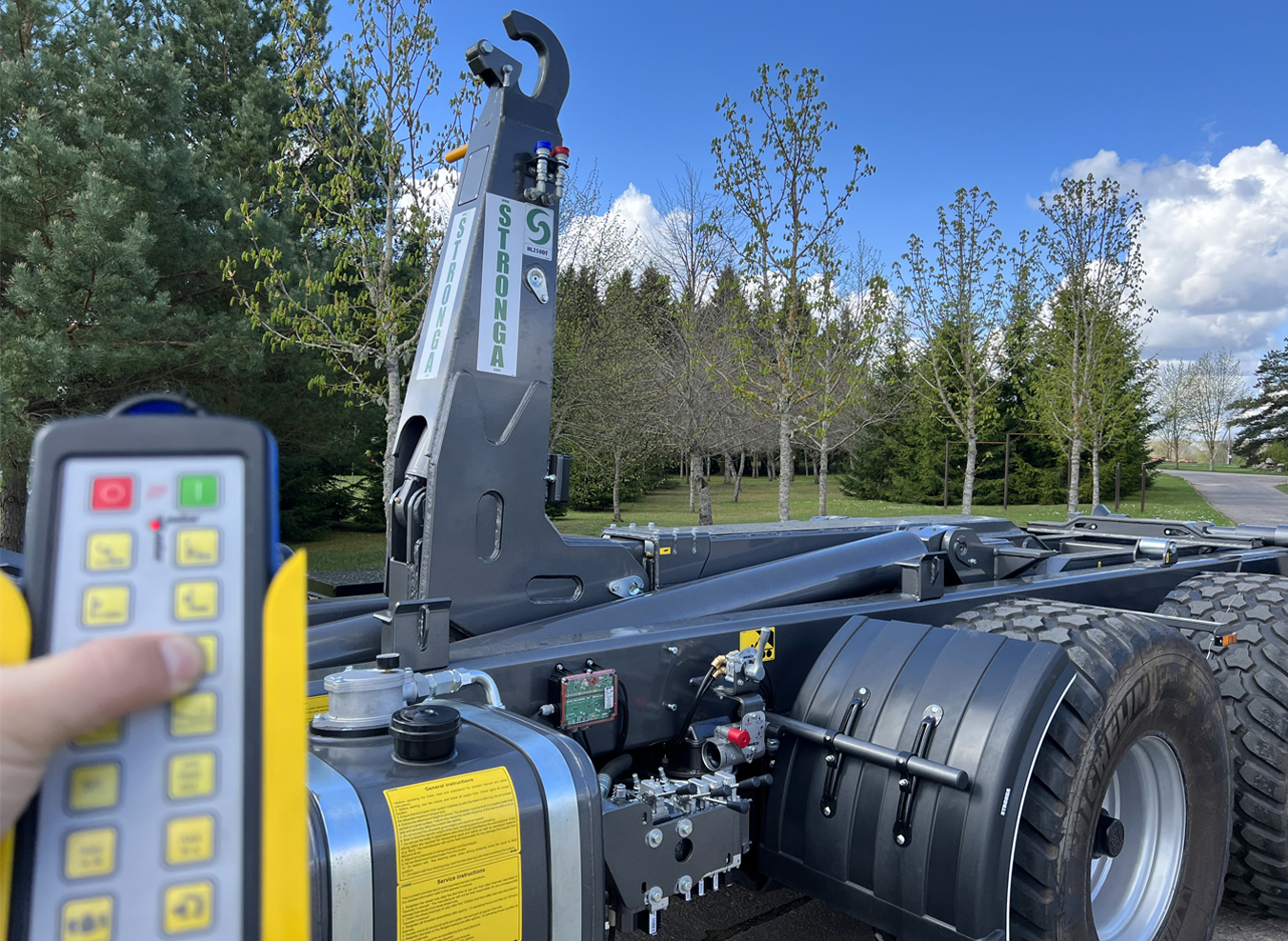 Remote-Control Benefits, Continued…
- An additional benefit of the radio-control is that all of the trailer's functions are available on one neat, visual, easy-to-use control interface. Control with SystaMatic™ is at the tip of your fingers.
- What's more, SystaMatic™ controls more than just the standard functions of the trailer, such as tipping and off-loading containers. Operator's also benefit from being able to control each and every option on one device such as QuickLoada™, air suspension systems, extending bumper and more.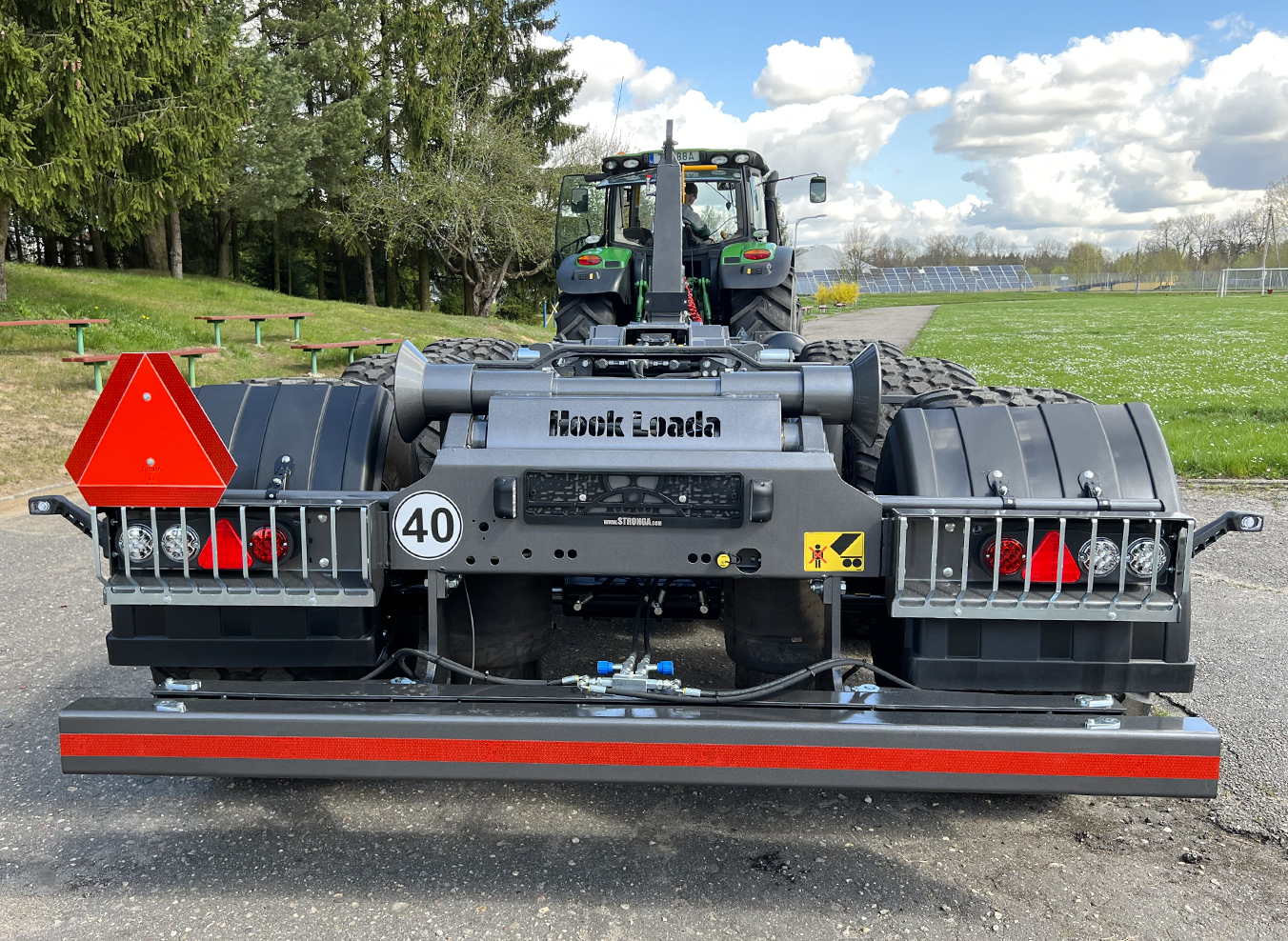 Remote-Control Benefits, Continued…
- Another benefit of the remote-control is that it is completely wireless, meaning there are no cables to your Stronga trailer. The outcome is simplified, faster and safer operation.
- If you are worried how you'll operate the trailer if the remote-control is down… Don't. With manual valves on the trailer for key hydraulic functions, you have added peace of mind that a back-up control system is available should there unexpectedly be an issue with the remote-control.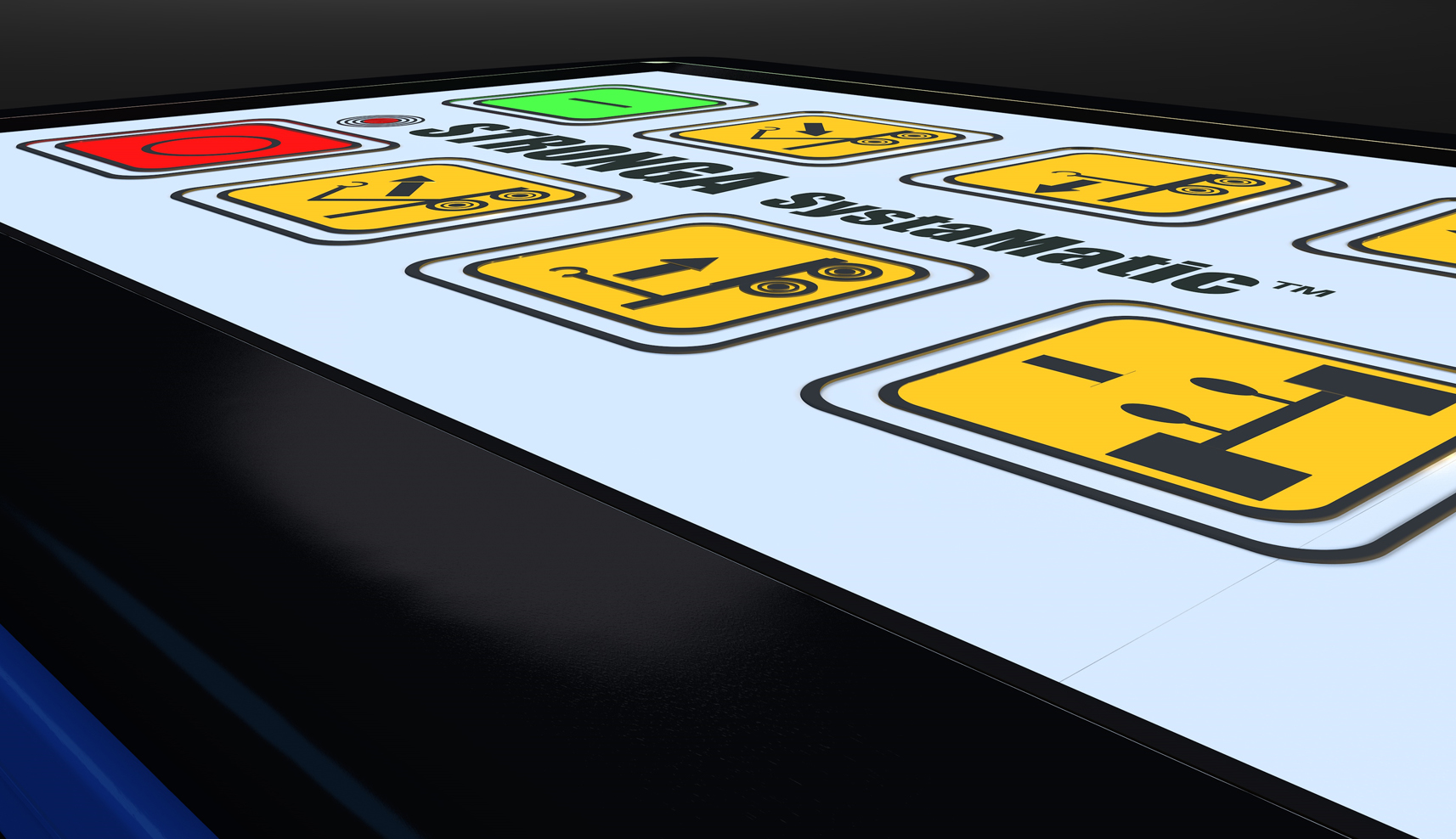 Fewer Pipes on Your Hook-Lift Trailer
What Are the Benefits?
Modern machines often need multiple hydraulic flow and return pipes which can become snagged during operation, plus they can wear and leak. With the SystaMatic™ package, the operator of the hook-lift trailer benefits from a single flow and return hydraulic fat pipe connection to the tractor, compared to the usual 6 (or more). This is a huge benefit to the operator because of the following reasons:
- With fewer pipes, there is a less risk of damaging them during the hitching and unhitching process, thus reducing service and maintenance costs.
- It is 3x faster and easier to hitch and unhitch the trailer to the tractor with only 2 pipes compared to the usual 6, or more.
- With fewer pipes, there are fewer oil connections which may leak after a period of time, and therefore require servicing.
- With the Danfoss Load Sensing (LS) option, there is far less pressure in the system and lower loading of the pump.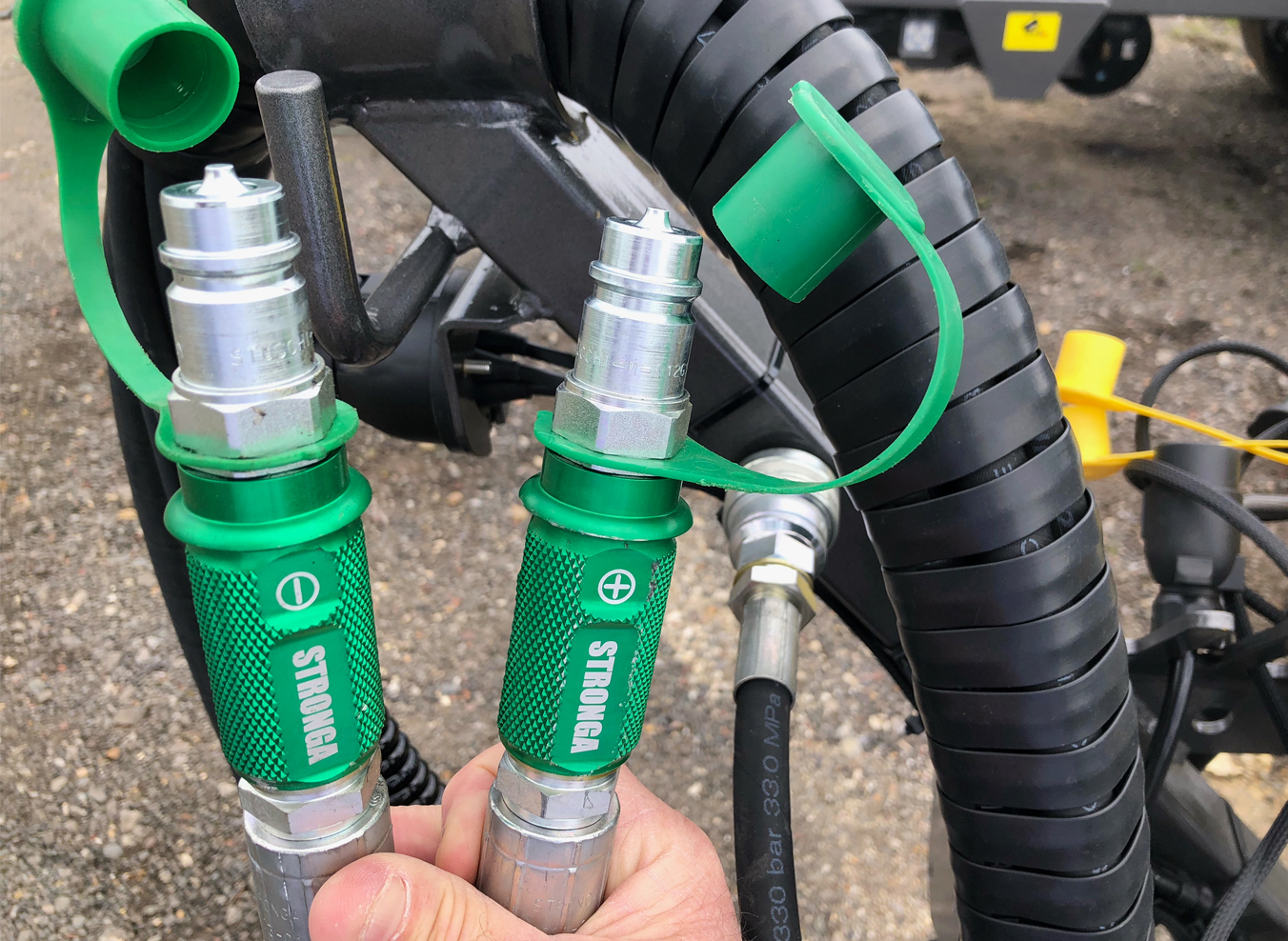 Danfoss Proportional Valve; Flow On-Demand
Optional Equipment for Hook-Lift Trailers
While the Danfoss Valve option isn't included as part of the SystaMatic™ package, operators choosing SystaMatic™ often bolt it onto their trailer's specification to enjoy the following benefits:
- In the long term, investing in the Danfoss Proportional Valve option increases the service life of your tractor because it delivers less hydraulic stress on the system, plus it is required to run for fewer working hours.
- As a consequence of the tractor working for fewer hours, the operator benefits from reduced fuel consumption – a huge benefit in these times where fuel costs are exceptionally high.
- Danfoss' modular electrohydraulic valves provide an almost infinite number of configurations. As the specification of your Stronga trailer grows in size and capability, Load Sensing (LS) becomes a highly useful feature.
- Danfoss offer leading service support. That means you benefit from the peace of mind knowing that spare parts and excellent back-up service are only a call away.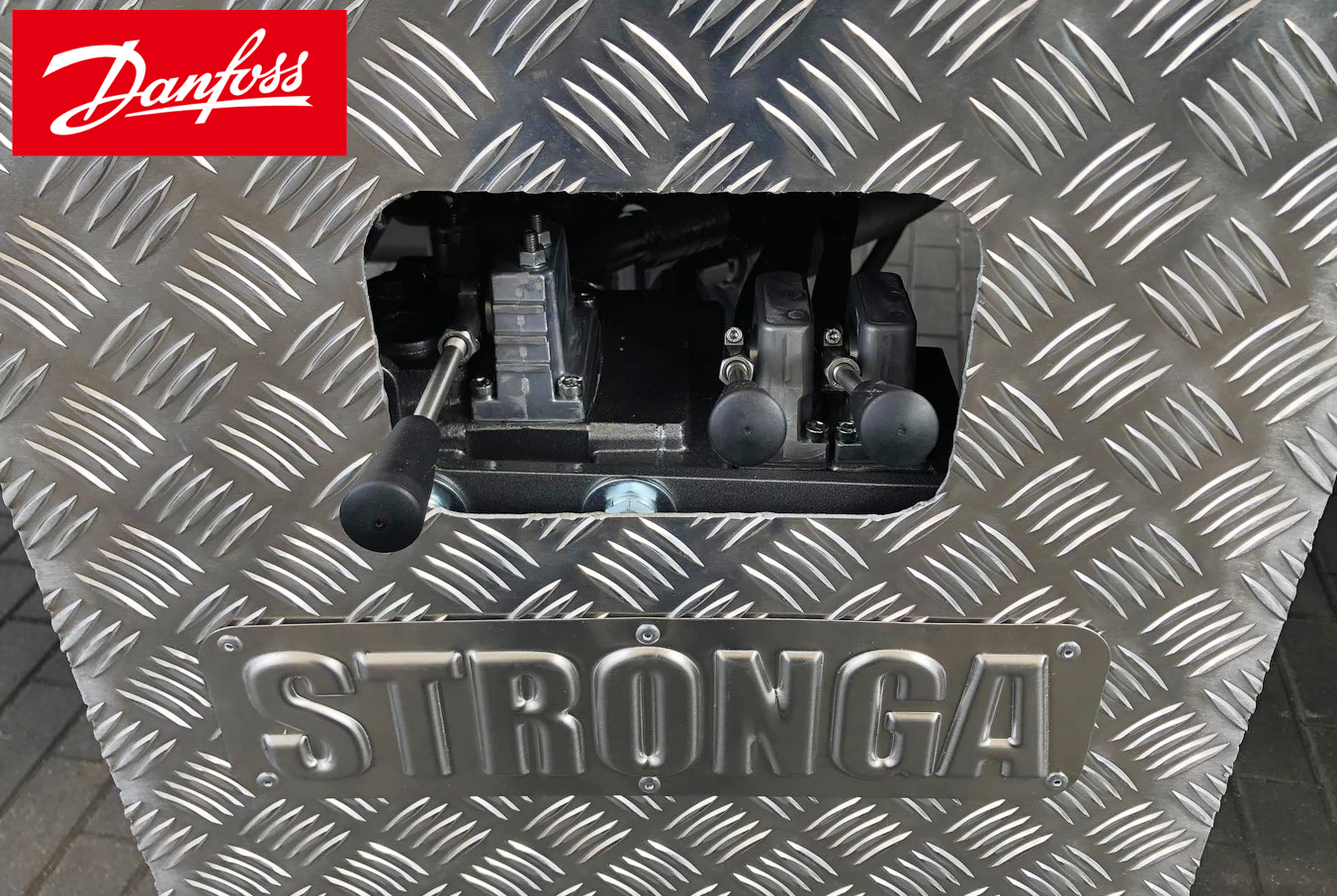 Fantastic Business Sense
The SystaMatic™ package option is available across Stronga's premium-level portfolio of trailers, including the market-leading Stronga hook-lift trailer range. Investing in SystaMatic™ makes fantastic business sense. Contact our sales team today to learn more.
Email - sales@stronga.co.uk
Telephone - 01992 519000