Increasing Fire Risk from Drought Conditions
Recent summer droughts across Europe have highlighted the increased risks of fire-fighting in relation to climate change. Droughts are increasing in area and frequency, across Europe and beyond.
Regardless of one's personal views on climate change, a quick Google search confirms that natural disasters since the 1960s have increased significantly across the globe. The graph below demonstrates just that. The time is right now for fire services to update resilience and adaptability by investing in new, efficient, demountable water-transport technologies to improve outcomes and drive the evolution of fire-rescue forwards.
* Graph below shows trends in the number of natural disasters from 1900-2020. Disasters include drought, earthquakes, volcanic activity, mass movement, storms, floods, landslides, wildlife and extreme temperature. Source: EM-DAT.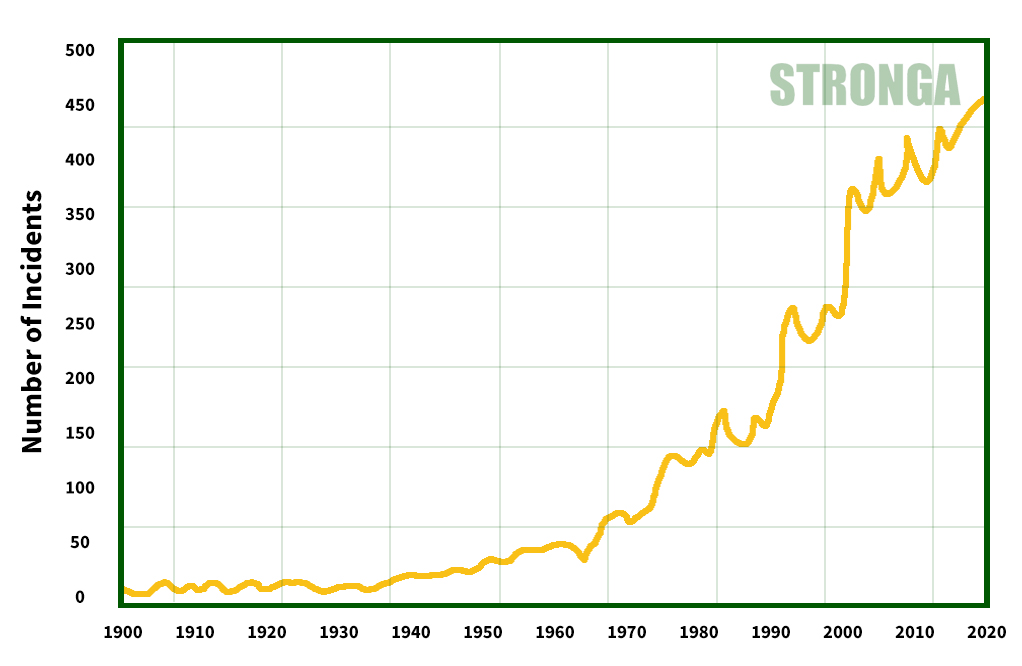 Rural Area Resilience
Fire services across Europe and beyond are now engaging in co-operation with local farmers, co-ordinating their efforts and expertise to tackle the growing threat of fire in relation to increased frequency and spread during drought periods. Part of the cooperation involves aligning the standardisation of water fittings that are standard in the fire service for filling and emptying tanks with those in agricultural bowsers. An alternative solution is Stronga's hooklift UniBowsa which can be used as part of the cooperation.
Standardisation improves connection compatibility for filling and emptying so that when an emergency occurs, the water carrying equipment from farms can be used to haul water to incident areas, often in fields and rural areas where the mains water supply is limited or non-existent.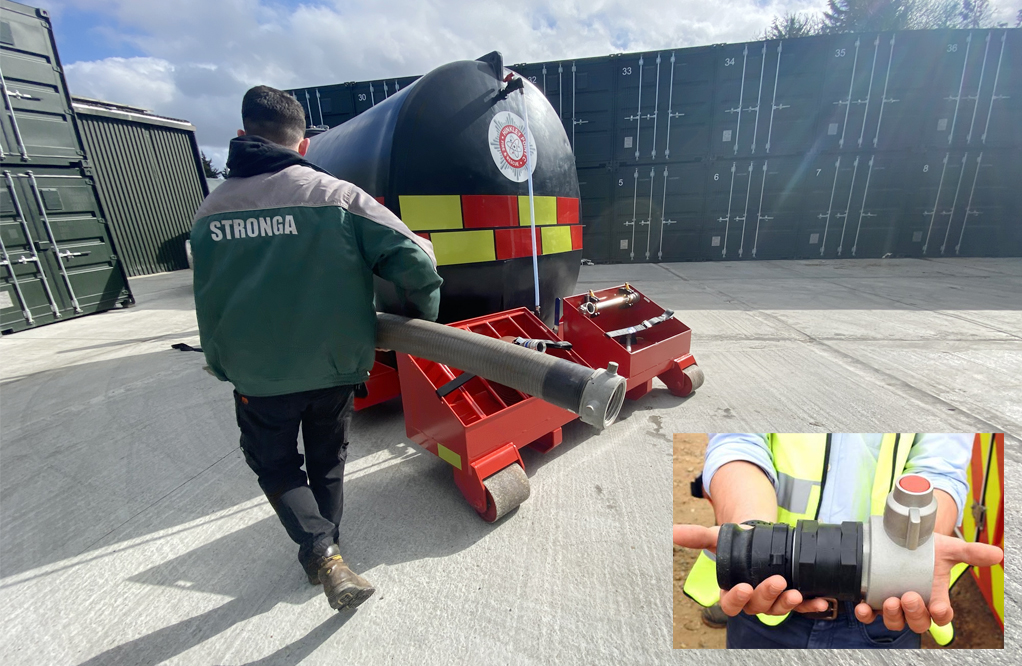 Fire services in the UK have decided that they also need to bolster their own water bowser carrying capacity with several divisions selecting specially-adapted Stronga UniBowsa equipment as their choice of an easily-movable water hauling solution.
One particular fire station just north of London plans to have one hook lift UniBowsa unit on standby in each district, allowing them to allocate the water carting capacity in neighbouring areas as the need arises. This strategic approach enables rapid response delivery of water capacity to where and when it is needed, thus reducing the scope, spread, damage and cost of fire.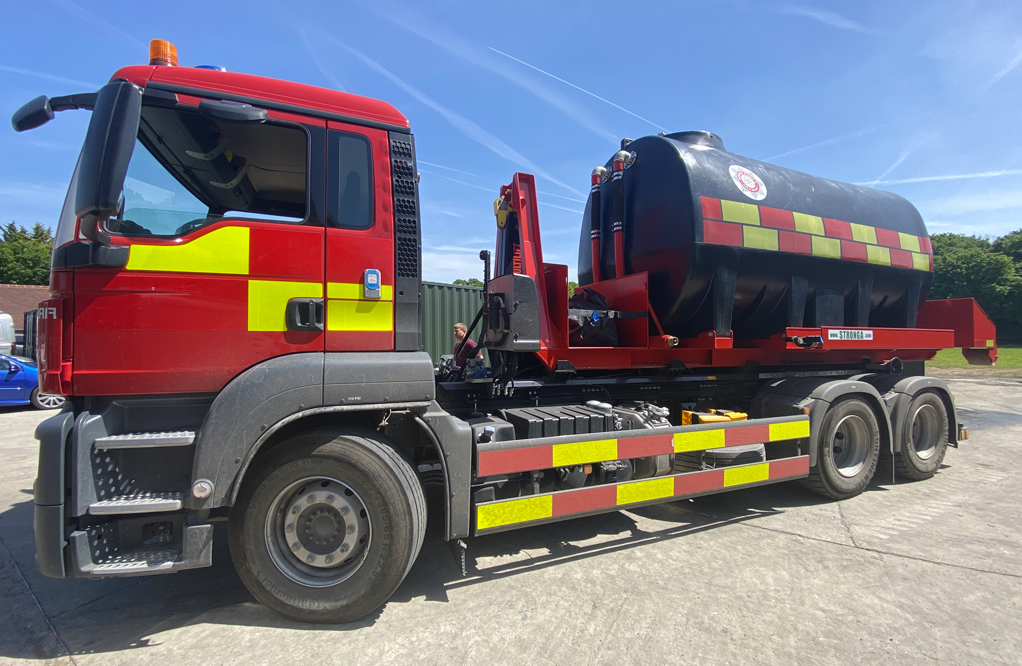 Highly-Effective Fire-Service Response
It has been identified by fire services that, in rural remote areas, it is the lack of water that is the weak link in the chain. While the fire-fighting equipment has suitable capacity, there isn't enough water in supply to fight the fire.
While there are dedicated fire-tender trucks, these are expensive during a period of extreme budget constraints. Fire services are therefore turning to Stronga to provide a cost-effective, flexible solution which can be used with their own prime-mover, along as with farmers HookLoada equipment, to deliver water when and where it is needed.
The prime mover hooklift truck operated by the fire service can shuttle water support units to the field edge and the farmers owning hook-lift trailers can shuttle UniBowsa to the fire site which are often off road, inaccessible areas. Other truck hook lift resources can also be called in for additional support, if necessary. Multiple units all based around the standard hook delivers so many benefits.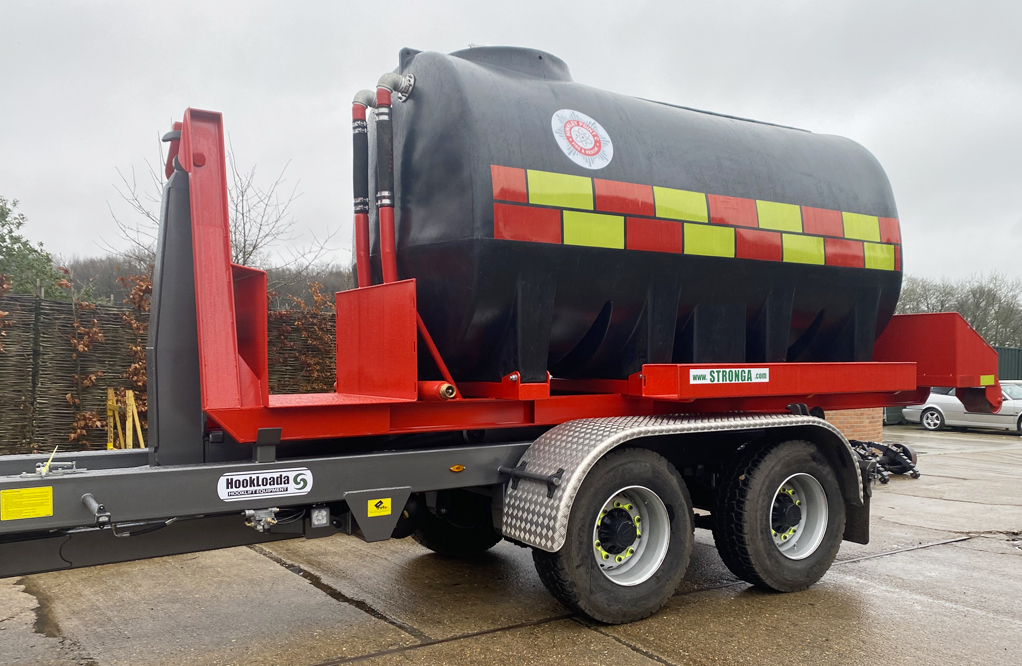 Water-Carrying Preparedness for Better Outcomes
Without suitable preparedness during high-risk drought periods where multiple fires can ignite at the same time across wide areas of dry crops and wooded areas, catastrophic outcomes - involving property damage and loss of life - are highly likely.
UniBowsa can be equipped with special-equipment for rapid filling - rapid deployment of temporary dams, lay-flat hoses, rigid pipes and more. Stronga have been working with several fire service professionals to develop this product so all the equipped is mounted for rapid deployment both at a national and local level. Professional fire service managers are working together with national emergency services to coordinate having the right Stronga equipment available for the job.
Demountable UniBowsa equipment offers a durable, low cost and highly flexible rapid-response water haulage solution for professional fire services and national resilience. The whole system is intermodal and allows sharing of resources across various fire services and districts.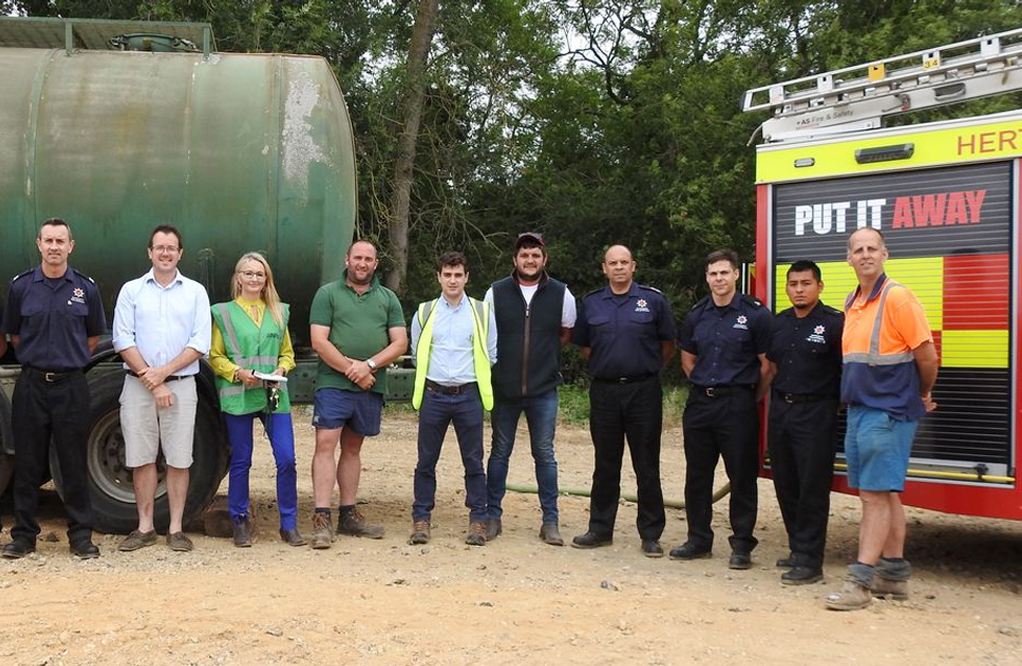 Improved Cost Efficiency
Comparing Truck-Mounted Bowsers to Demountable Tanks
At a time where there are increasing budgetary constraints, truck-mounted water tenders are a high cost proposition when compared to the significantly more cost-efficient demountable hook lift tanks from Stronga.
Multiple Stronga hooklift water supply units can be purchased with the same amount of money as single water tender, increasing water capacity availability many times over with money to spare. From a budgetary perspective, investing in demountable hooklift tanks simply makes sense.
Flexibility in Deployment
The equipment on-board the Stronga UniBowsa adds excellent flexibility in deployment. As an example, multiple portable temporary dams on-board (each 6,000 litres capacity) in convenient stowage areas allow rapid deployment of water when and where it is needed most, increasingly in remote areas where there is no fire hydrant infrastructure.
2 x 6,000 litre deployed temporary dams allow nearly all of the 13,000-litre capacity of the UniBowsa to be rapidly unloaded from the large capacity rear discharge valve. This allows the portable water bowser to be deployed for shuttling greater volumes of water to the incident area.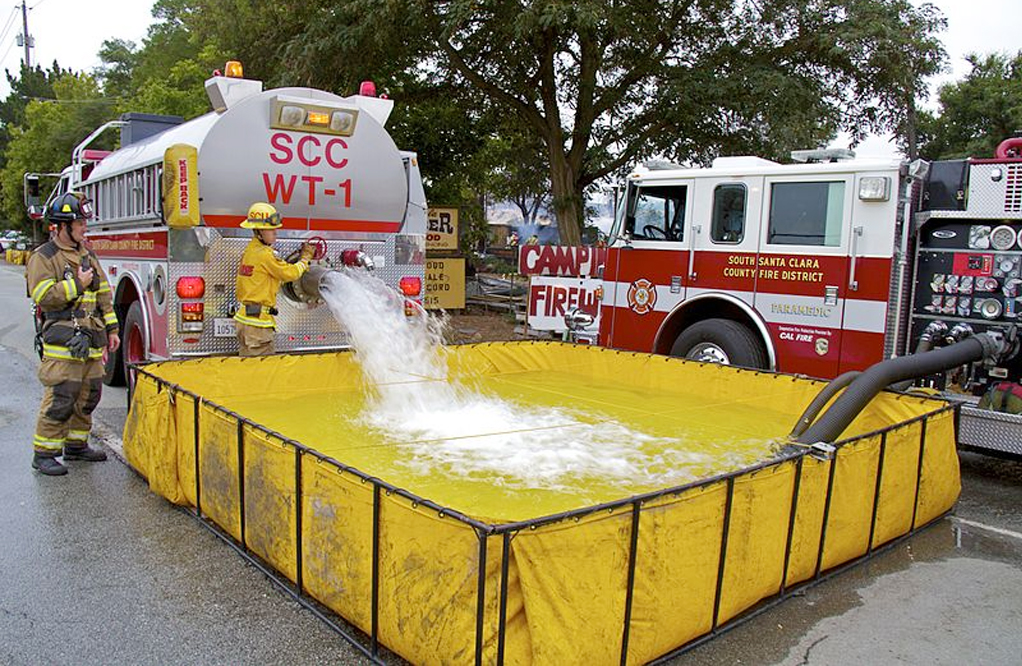 Demountable Fire-Service Tenders
With a capacity of 10,000 litres or more, Stronga's demountable fire-service tender can be matched to the prime mover's capability, providing ample water storage for fire-fighting and other critical disaster incidents.
Demountable water-tender equipment comes equipped with instantaneous fire couplings, multiple stowage points for lay-flat and rigid hoses, high capacity water discharge valves and more, making it ideal for fire-fighting and other emergency situations. To further enhance its functionality, the fire-fighting water bowser also features a flange-mounted sight gauge with an isolation valve. This provides an easy way to monitor the water level in the tank and to control the flow of water as needed, ensuring that you have the resources needed to effectively respond to emergencies.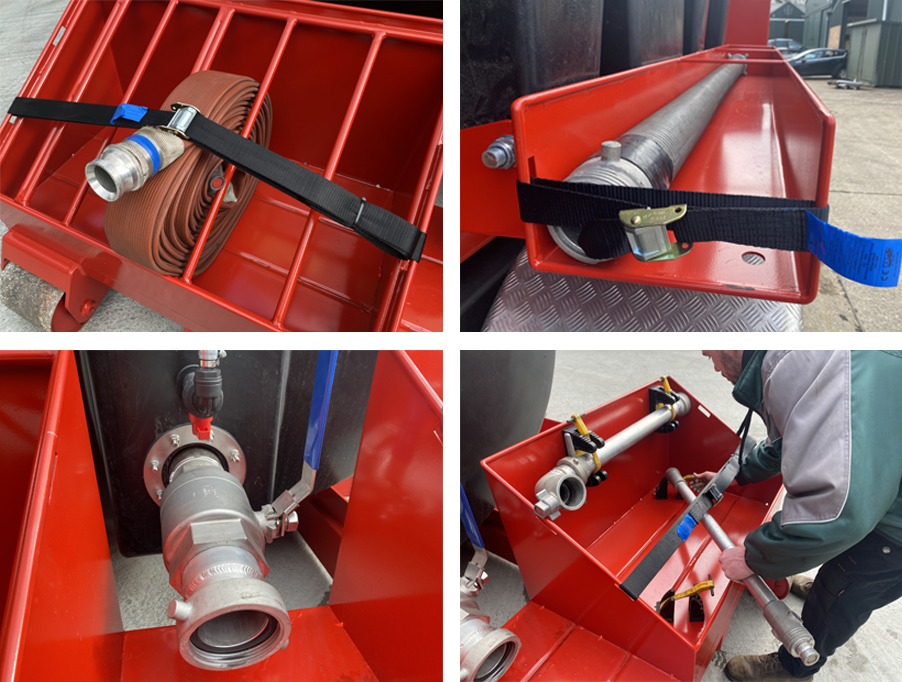 UniBowsa; Summary of Key Benefits
● UniBowsa equipment can be rapidly filled by pump or fire hydrant, and also discharged rapidly.
● UniBowsa has on-board rigid and lay-flat hoses for extended reach to incident areas.
● Together with the HookLoada trailer, UniBowsa equipment can work on and off road with suitable prime movers.
● Multiple units can be rapidly deployed to multiple areas in the region.
● Multiple units can be shuttled back and forth from the incident area using the same prime mover.
● Stronga water-tender equipment is fully intermodal – meaning you can transport the unit using hook-lift trucks or trailers.
● The UniBowsa system is expandable by simply adding more units to the fleet, as budgets allow.
● Demountable water-tender equipment fits well with other fire-fighting equipment such as fire-fighting pumps, fire engines and so on.
● Each unit is fully customisable. Lightweight pumps, for example, can be installed conveniently onto the hook-lift frame.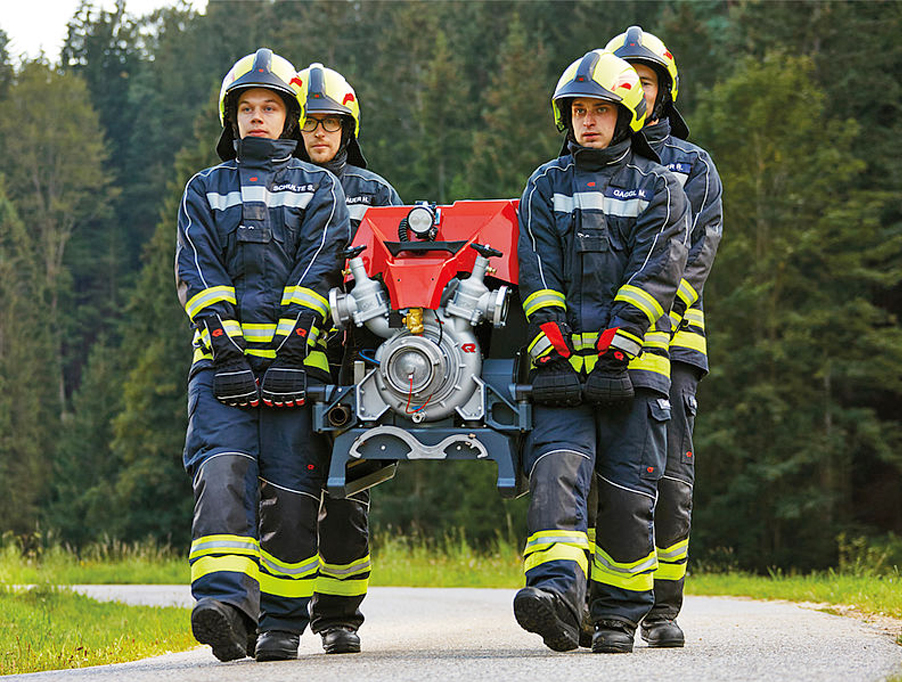 Long Life, Low Maintenance Water-Tender Equipment
Stronga's portable water-tender is one of the most durable, adaptable, lowest maintenance pieces of equipment available in the market with only 2 greasing points on the rear rollers. The equipment is extremely long life as well so the investment is secure, providing long term resilience and utility while also delivering excellent value for the operating organisation.
UniBowsa equipment is a highly effective use of public money. More and more fire services are seeing the benefits. Contact us today to learn more.
Email - sales@stronga.co.uk
Call – 01992 519000