Get ready to work
with DumpLoada DL1200
Get ready to work with the high capacity, heavy-duty DL1200 earth moving tipper trailer. Designed for optimised service life, reliability and durability; hauling is easier, safer and more efficient than ever before using the DL1200 trailer. With a 15m³ standard transport capacity; DL1200 offers the largest carrying capacity from a tandem-axle tipper in the market.
15m³ standard transport capacity
The best tipper just got better
Biggest tandem-axle tipper
Available in the Stronga range
Loaded with exclusive innovations, high performance components and technical advantages, these hardworking heavy duty tipper trailers deliver more on a regular basis. The DL1200 earth moving tipper trailer can move more tonnes per hour, giving 100% in all conditions. The 2nd largest tipper in the market has a bigger payload to thrive in your heavy material application.
Haul with confidence
Each Stronga earth moving tipper trailer is built for tough conditions at speeds of up to 40 kilometres per hour. With sure-footed traction, maximum ground contact and a wide-opening hydraulic tailgate, the DL1200 trailer is ideal for high output applications such as road building projects, mass excavation, mining and quarrying.
Standard Specifications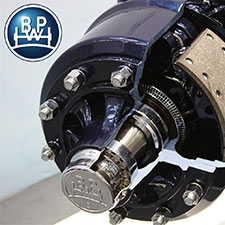 BPW commercial axle, 410x180 brake axles, 150x150mm square beam, 10 stud.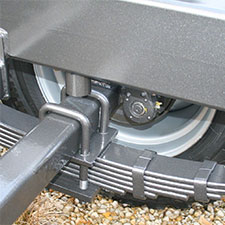 21t multileaf sprung suspension. 1480mm distance between dump loader trailer axles.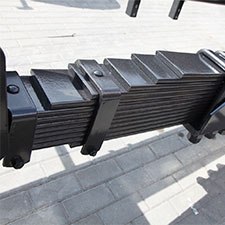 Multi-position sprung drawbar for high comfort at speed.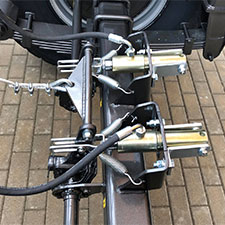 Powerful hydraulic brakes on all wheels.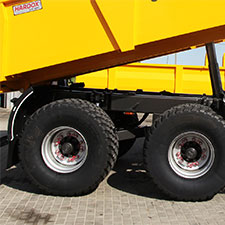 445/65 R22,5 radial tyres. Load rating per tyre:
7000 kg @ 105 km/h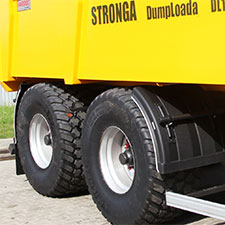 Hard plastic quarter mudguards, front and rear of the dump loader trailer.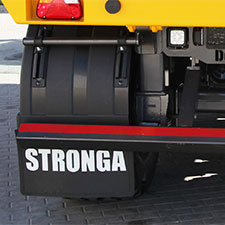 2 x rear rubber mud-flaps.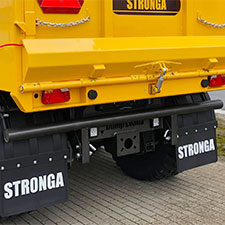 Multi-position rear tipper trailer removable round bumper.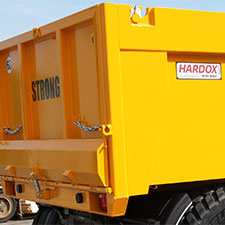 Single top-hung rear door with hydraulic flip back.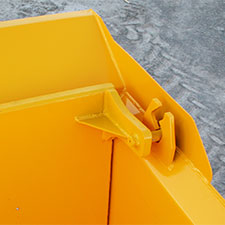 Brackets with lock for the rear door in the front of the earth moving tipper trailer box.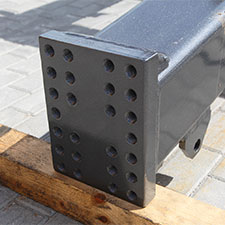 3 position plate for bolting towing eyelet.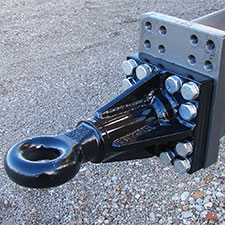 Swivel towing hitch. STR type. 50mm diameter eyelet.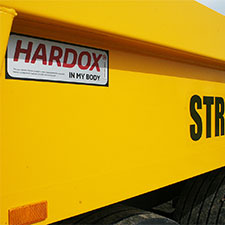 HARDOX 450 steel. 8mm trailer floor. 6mm trailer sides.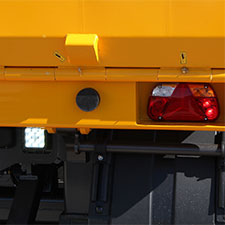 12 V electric system. Sealed loom. All lights super-bright LED.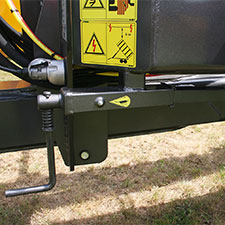 Cable-type hand brake.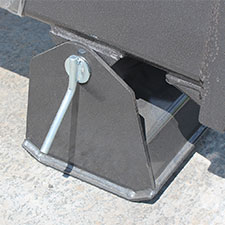 Suspended drawbar shoe with stowage point.
Optional Equipment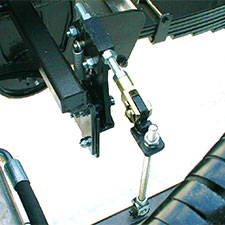 STR-302

Load sensing for hydraulic brakes.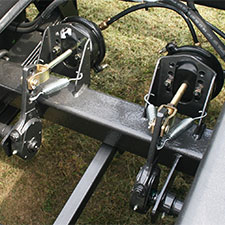 STR-303

WABCO air brakes on all dump trailer wheels.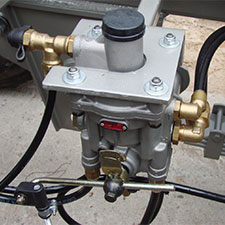 STR-304

Load Sensing Valve (LSV) for air brakes.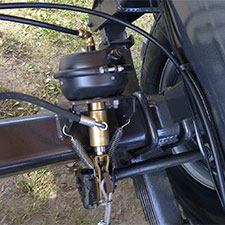 STR-305

Dual air and hydraulic brake system.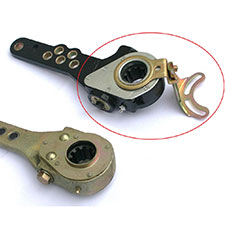 STR-307

Automatic slack adjusters.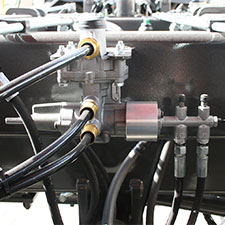 STR-308

Load Sensing Valve (LSV) for hydraulic suspension.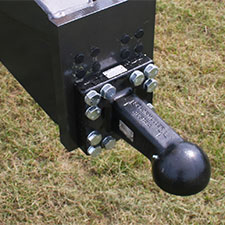 STR-505

Bolted-on ball towing hitch, Scharmuller type, 80mm diameter.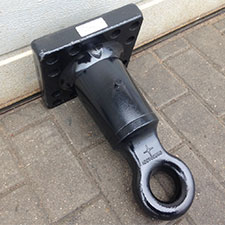 STR-506

Swivel towing hitch, Scharmuller type. 50mm diameter eyelet.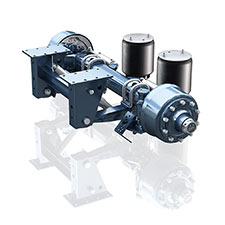 STR-409

Air suspension with height controlling valve.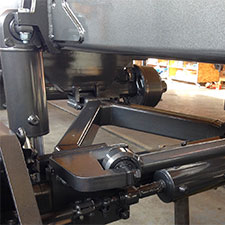 STR-410
Hydraulic suspension for optimum axle travel.
Watch video >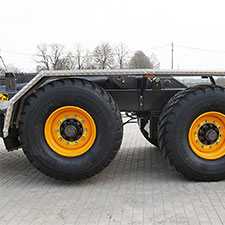 STR-411
Front lift axle - Only with air or hydraulic suspensions.
Watch video >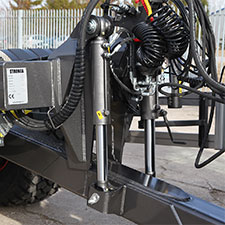 STR-508
Hydraulic drawbar for easy tipper trailer levelling and high comfort.
Watch video >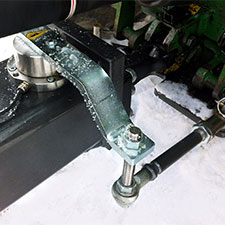 STR-707
Electronic Power Steering (EPS) for excellent efficiency and safety.
Watch video >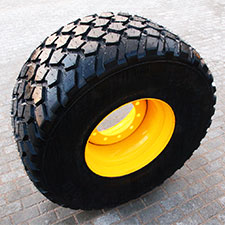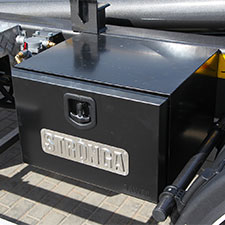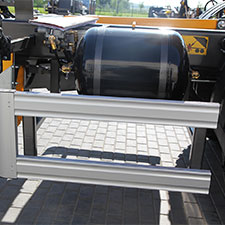 STR-1001

Aluminium tipper trailer side protection rails.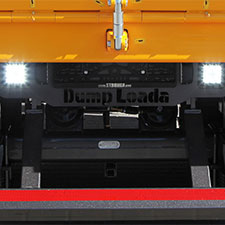 STR-1037

Two super-bright LED rear working lights.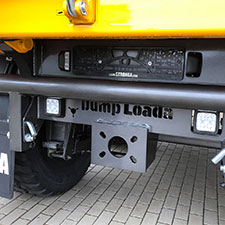 STR-1002

Rear towing eyelet mounting plate for VBG rear drawbar.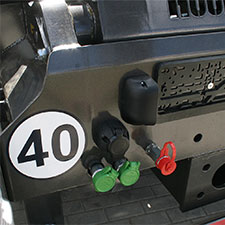 STR-1038

Rear mounted hydraulic brake connection.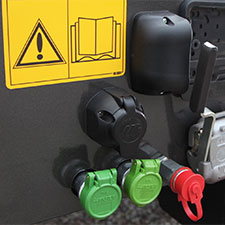 STR-1039

Rear mounted light connection 7-pin socket.
| Model | DumpLoada DL1200 |
| --- | --- |
| Gross weight | 24000kg |
| Tare weight | ca. 6000kg |
| Maximum Payload | 20000kg |
| Drawbar load | 3000kg (4000kg*) |
| Sprung suspension capacity | 21000kg |
| Standard transport capacity | 15m³ |
| Lift capacity of step 1 at 180 bar | 38,4 tonnes |
| Oil requirement | 29,4 litres |
| Minimum draft requirement | 125HP |
| Hitch height | 510-550-590mm |
| Bottom tickness | 8mm HARDOX 450 |
| Side tickness | 6mm HARDOX 450 |
| Body height inside | 1200mm |
| Body length inside | 5150mm |
| Total length | 6750mm |
| Total height | 2650mm |
| Total height at 65" | 6500mm |
| Maximum width (standard wheels) | 2550mm |
| Standard wheels | 445/65 R22,5 |
| Colour | Yellow |
| Speed | 40km/h |
All weights and measurements are subject to earth moving tipper trailer specification and regional laws. Specification, weights and payload may vary on fast tow models. As we are continually improving our products, technical details, masses and measurements are given as reference values only.