Count on a strong tipper trailer
Built Stronga to last longer
24t hydraulic dump trailer designed for hauling construction materials and excavated earth and rocks. Low cost of ownership and superior ergonomics explain why DL1000 is proving popular for medium-size construction projects. Heavy duty, damage-resistant chassis and full Hardox 450 body help DL1000 withstand everything thrown at it. Strength, lightness and reliability are maximised at all times.
Heavy-duty, wear resistant tipper trailer
Built with Hardox 450 wear plates
The tipper trailer body is built entirely of Hardox 450 wear-resistant, high-tensile plates with a rigid square body design to increase structural strength. 6mm abrasion-resistant Hardox 450 side walls and 8mm Hardox 450 base plates of the dump section are reinforced with ribs for added strength and durability.
Designed to get the job done
#StrongaInScandinavia
Stronga are proud to continue our long-standing alliance with highly successful, well-renowned Norwegian contractors, Tractor & Gravemaskindrift A/S. Tractor & Gravemaskindrift A/S use their fleet of DL1000 and DL1200 tipper trailers to successfully deliver infrastructural projects throughout Norway, completing them on-time and to the highest standards.
Watch the case study video.
Standard Specifications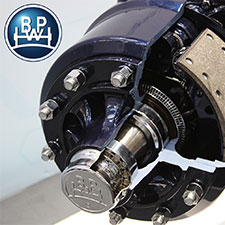 BPW commercial axle, 410x120 brake axles, 120x120mm square beam, 10 stud.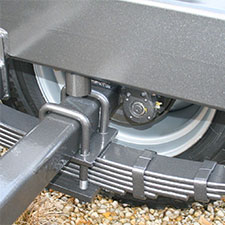 21t multileaf sprung suspension. 1480mm distance between axles.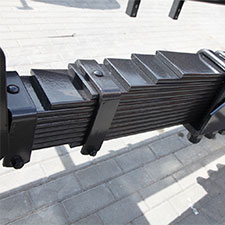 Multi-position sprung drawbar for high comfort at speed.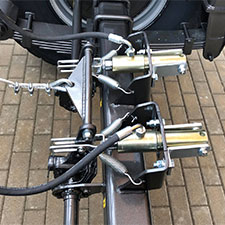 Powerful hydraulic brakes on all wheels.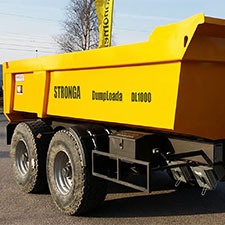 445/65 R22,5 radial tyres. Load rating per tyre:
7000 kg @ 105 km/h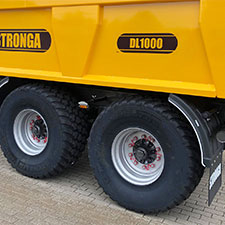 Hard plastic quarter mudguards, front and rear of the tipper trailer.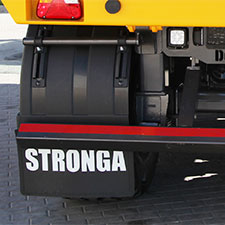 2 x rubber mud-flaps.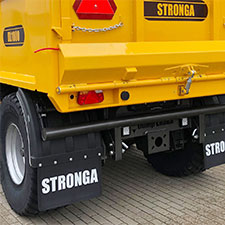 Multi-position removable round bumper for rear protection of the tipper trailer.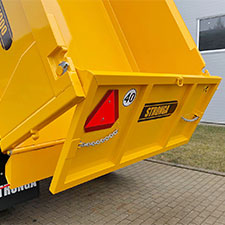 Single top-hung rear door with hydraulic flip back.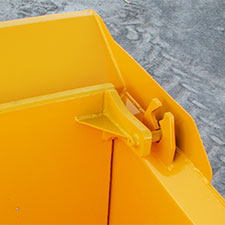 Brackets with lock for the rear door in the front of the box.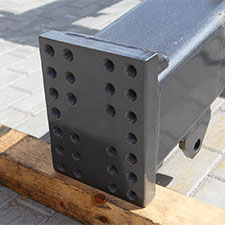 3 position plate for bolting towing eyelet.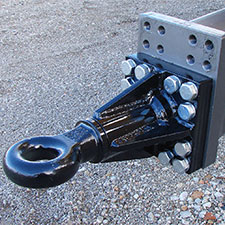 Swivel towing hitch. STR type. 50mm diameter eyelet.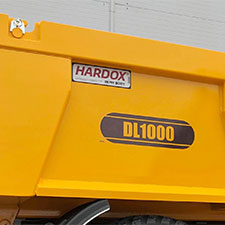 HARDOX 450 steel. 8mm tipper trailer floor. 6mm dump trailer sides.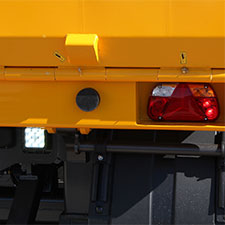 12 V electric system. Sealed loom. All lights super-bright LED.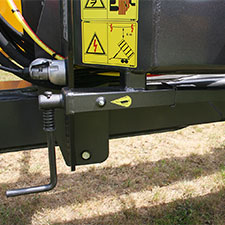 Cable-type hand brake.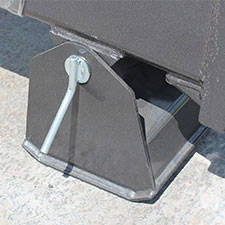 Suspended drawbar shoe with stowage point.
Optional Equipment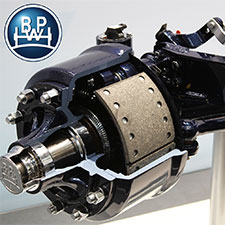 STR-210

BPW commercial axle, 410x180 brake axles, 150x150mm square beam, 10 stud.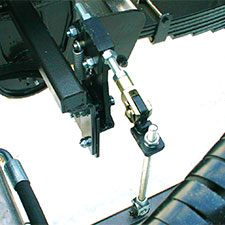 STR-302

Load sensing for hydraulic brakes.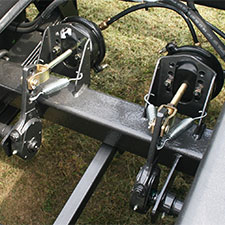 STR-303

WABCO air brakes on all dump trailer wheels.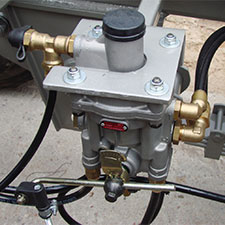 STR-304

Load Sensing Valve (LSV) for air brakes.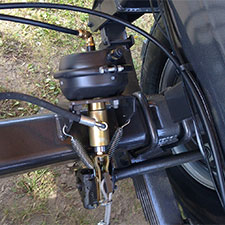 STR-305

Dual air and hydraulic brake system.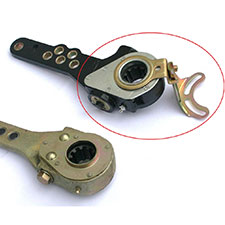 STR-307

Automatic slack adjusters.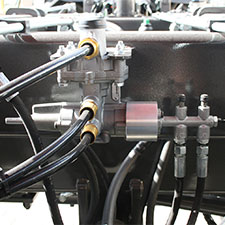 STR-308

Load Sensing Valve (LSV) for hydraulic suspension.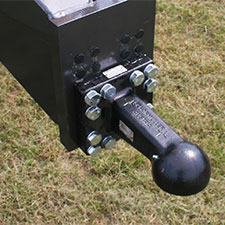 STR-505

Bolted-on ball towing hitch, Scharmuller type, 80mm diameter.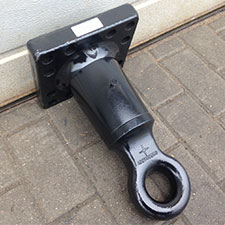 STR-506

Swivel towing hitch, Scharmuller type. 50mm diameter eyelet.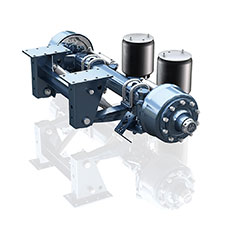 STR-409

Air suspension with height controlling valve.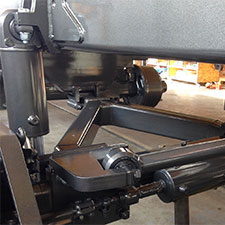 STR-410
Hydraulic suspension for optimum axle travel.
Watch video >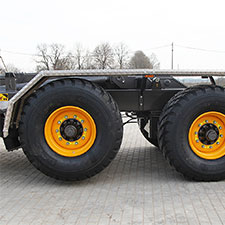 STR-411
Front lift axle - Only with air or tipper trailer suspensions.
Watch video >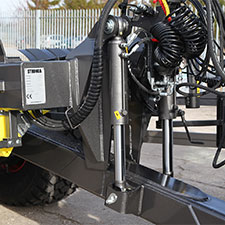 STR-508
Hydraulic drawbar for easy tipper trailer levelling and high comfort.
Watch video >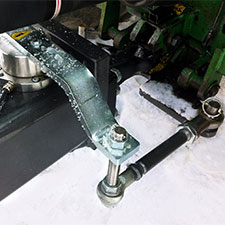 STR-707
Electronic Power Steering (EPS) for excellent efficiency and safety.
Watch video >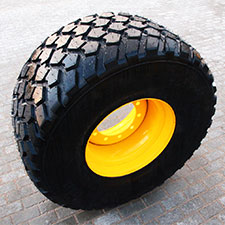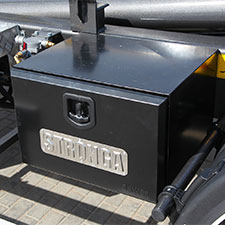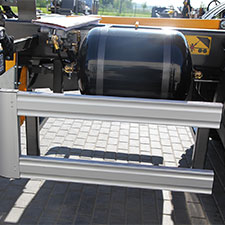 STR-1001

Aluminium tipper trailer side protection rails.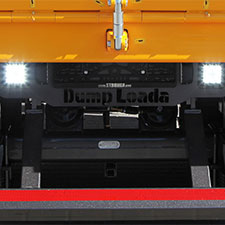 STR-1037

Two super-bright LED rear working lights.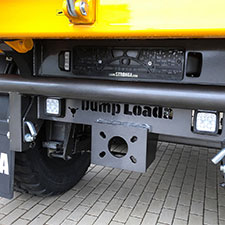 STR-1002

Rear towing eyelet mounting plate for VBG rear drawbar.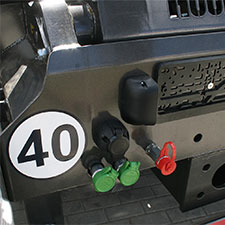 STR-1038

Rear mounted hydraulic brake connection.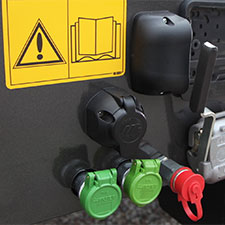 STR-1039

Rear mounted light connection 7-pin socket.
| Model | DumpLoada DL1000 |
| --- | --- |
| Gross weight | 24000kg |
| Tare weight | ca. 5000kg |
| Maximum Payload | 19000kg |
| Drawbar load | 3000kg (4000kg*) |
| Sprung suspension capacity | 21000kg |
| Standard transport capacity | 12m³ |
| Lift capacity of step 1 at 180 bar | 38,4 tonnes |
| Oil requirement | 29,4 litres |
| Minimum draft requirement | 125HP |
| Hitch height | 510-550-590mm |
| Bottom tickness | 8mm HARDOX 450 |
| Side tickness | 6mm HARDOX 450 |
| Body height inside | 1000mm |
| Body length inside | 5110mm |
| Total length | 6750mm |
| Total height | 2450mm |
| Total height at 65" | 6400mm |
| Maximum width (standard wheels) | 2550mm |
| Standard wheels | 445/65 R22,5 |
| Colour | Yellow |
| Speed | 40km/h |
All weights and measurements are subject to tipper trailer specification and regional laws. Specification, weights and payload may vary on fast tow models. As we are continually improving our products, technical details, masses and measurements are given as reference values only.