Optimum-size half pipe tipper
The DL900HP model delivers increased productivity, efficiency and profitability in heavy material transport. Specialist Stronga dump trailers are engineered for optimal performance, designed for comfort, and built-to-last in harsh environments.
Keep heavy materials in transit even when working on challenging slopes and slippery surfaces. With DL900HP, you get everything you need to boost productivity and uptime while reducing your daily operating costs.
Versatility & Performance
High speed heavy materials, on & off road.
Power in compact form
Impressive power-to-weight ratios & fast cycles.
Best in power technology
Strong front-mounted tipping cylinder.
This is no overnight phenomenon…
DL900HP is no overnight phenomenon. It has evolved through multiple generations of strong dump trailers. These trailers are developed under our vision of only building long life, highly reliable products. This vision creates lasting value.
See the DL900HP half pipe tipper trailer in action in the video.
Standard Specifications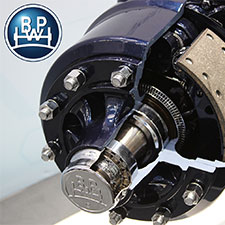 BPW commercial axle, 410x180 brake axles, 150x150 - 16mm square beam, 10 stud.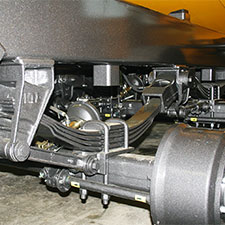 24t parabolic sprung suspension.1525mm distance between axles. Springs on top of axles.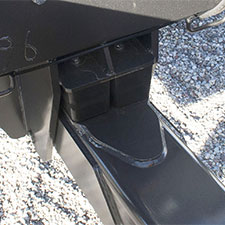 Shockproof rubber mount drawbar.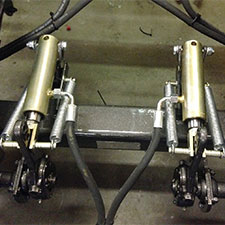 Powerful hydraulic brakes on all wheels.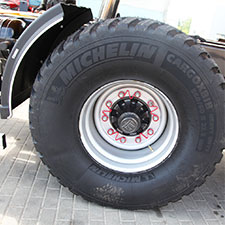 600/55 R26,5 Michelin CargoXBib radial tyres. Load rating per tyre: 7000 kg @ 40 km/h
5150 kg @ 65 km/h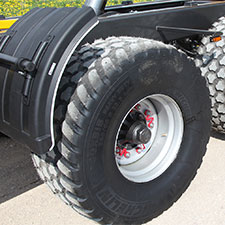 Hard plastic quarter mudguards, front and rear of the half pipe tipper trailer.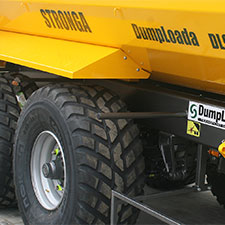 Bolted on metal mudguards.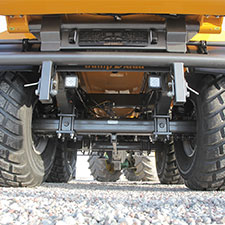 Multi-position rear removable round bumper.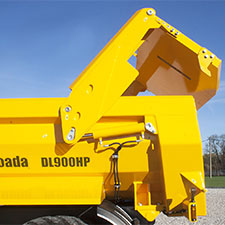 Hydraulic rear tipping trailer door.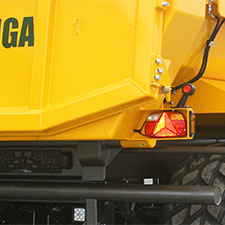 12 V electric system. Sealed loom. All lights super-bright LED.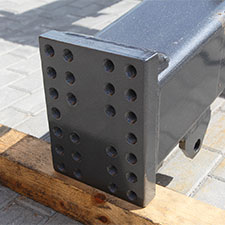 3 position plate for bolting towing eyelet.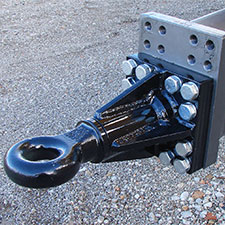 Swivel towing hitch. STR type. 50mm diameter eyelet.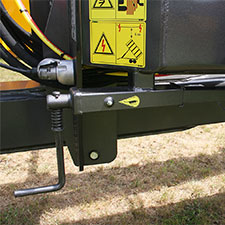 Cable-type hand brake.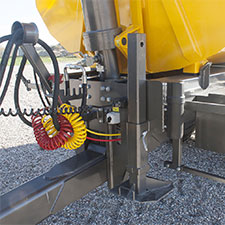 Manual telescopic drawbar support leg.
Optional Equipment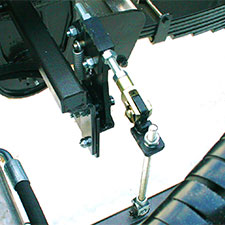 STR-302

Load sensing for hydraulic brakes.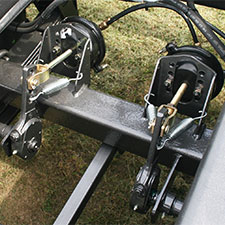 STR-303

WABCO air brakes on all wheels of the half pipe tipper trailer.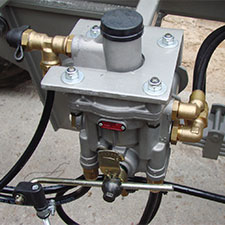 STR-304

Load Sensing Valve (LSV) for air brakes.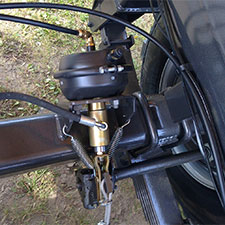 STR-305

Dual air and hydraulic brake system.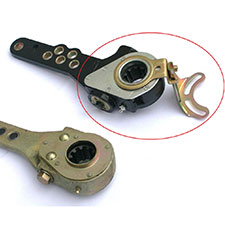 STR-307

Automatic slack adjusters.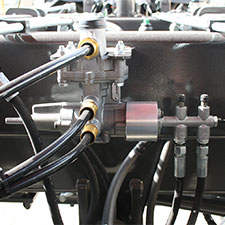 STR-308

Load Sensing Valve (LSV) for hydraulic suspension.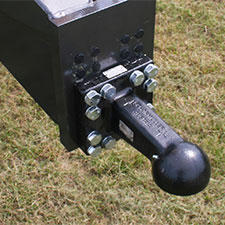 STR-505

Bolted-on ball towing hitch, Scharmuller type, 80mm diameter.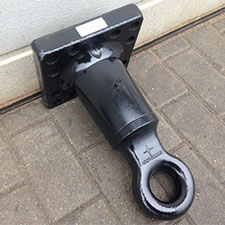 STR-506

Swivel towing hitch, Scharmuller type. 50mm diameter eyelet.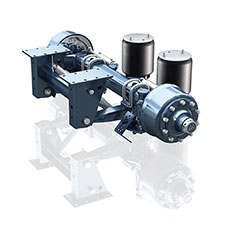 STR-409

Air suspension with height controlling valve.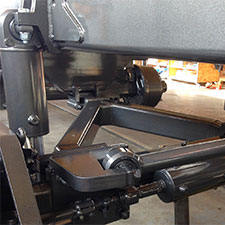 STR-410
Hydraulic suspension for optimum axle travel.
Watch video >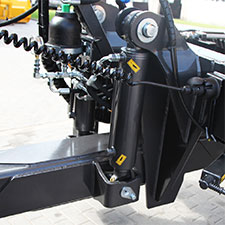 STR-508
Hydraulic drawbar for easy levelling and high comfort.
Watch video >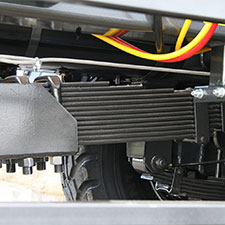 STR-501

Multi-position sprung drawbar for high comfort at speed.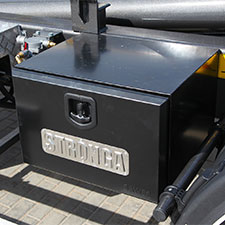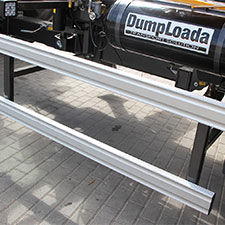 STR-1001

Aluminium side protection rails.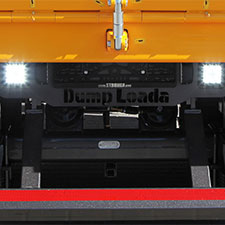 STR-1037

Two super-bright LED working lights at the rear of the half pipe tipper trailer.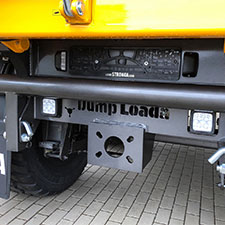 STR-1002

Rear towing eyelet mounting plate for VBG rear drawbar.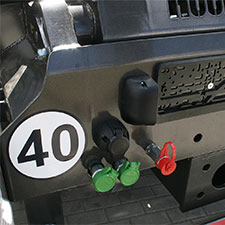 STR-1038

Rear mounted hydraulic brake connection.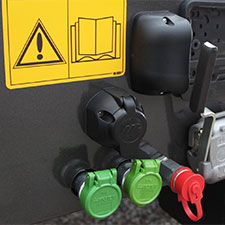 STR-1039

Rear mounted light connection 7-pin socket.
| Model | DumpLoada DL900HP |
| --- | --- |
| Gross weight | 26000kg |
| Tare weight | ca. 5500kg |
| Maximum Payload | 20000kg |
| Drawbar load | 3500kg (4000kg*) |
| Sprung suspension capacity | 24000kg |
| Standard transport capacity | 11m³ |
| Oil requirement | 36,7 litres |
| Minimum draft requirement | 150HP |
| Hitch height | 510-550-590mm |
| Bottom tickness | 6mm HARDOX 450 |
| Side tickness | 6mm HARDOX 450 |
| Body height inside | 1000mm |
| Body length inside | 5180mm |
| Total length | 7140mm |
| Total height | 2990mm |
| Maximum width (standard wheels) | 2550mm |
| Standard wheels | 600/55 R26,5 |
| Colour | Yellow |
| Speed | 40km/h |
All weights and measurements are subject to half pipe tipper trailer specification and regional laws. Specification, weights and payload may vary on fast tow models. As we are continually improving our products, technical details, masses and measurements are given as reference values only.